To celebrate the hotly anticipated film adaptation of David Nicholl's bestselling novel One Day, starring Anne Hathaway and Jim Sturgess (in cinemas AUGUST 24) The Huffington Post UK are offering two lucky winners the chance to win a pair of tickets each to the UK premiere of One Day on 23rd August!
The two winners, plus friends, will get to walk the red carpet alongside the stars of the film.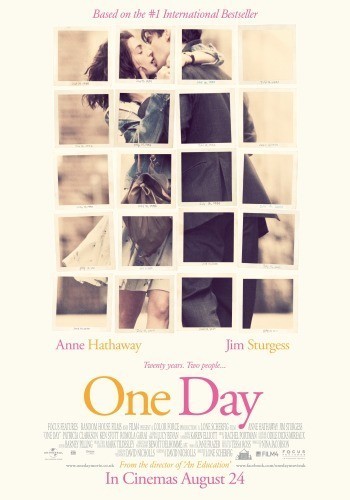 Directed by Lone Scherfig (director of An Education, Academy Award-nominated for Best Picture), the motion picture One Day is adapted for the screen by David Nicholls from his beloved, bestselling novel One Day.
After one day together – July 15th, 1988, their university graduation – Emma Morley (Academy Award nominee Anne Hathaway) and Dexter Mayhew (Jim Sturgess of Across the Universe) begin a friendship that will last a lifetime.
She is a working-class girl of principle and ambition who dreams of making the world a better place. He is a wealthy charmer who dreams that the world will be his playground.
For the next two decades, key moments of their relationship are experienced over several July 15ths in their lives.
Together and apart, we see Dex and Em through their friendship and fights, hopes and missed opportunities, laughter and tears. Somewhere along their journey, these two people realise that what they are searching and hoping for has been there for them all along.
As the true meaning of that one day back in 1988 is revealed, they come to terms with the nature of love and life itself.
One Day is released in UK cinemas AUGUST 24.
For your chance of winning this amazing prize, answer this simple question:
Name the Academy Award nominated actress who plays Emma Morley in One Day
A) Anne Hathaway
B) Anna Faris
C) Julia Roberts
© 2011 Universal Studios / Focus Features LLC. All Rights Reserved.
By entering this prize promotion, you accept and agree to be bound by the following terms and conditions:
1. The prize promotion is open to all UK residents aged 18 years or over except employees (and their families) of AOL (UK) Limited ("AOL"), Universal Studios / Focus Features LLC, Feref and any affiliates or subsidiary companies, as well as representatives or agents of AOL and anyone else who may be involved or connected with the prize promotion. Any entries submitted by agents or third parties will be invalid and will not be accepted by the Promoter.
2. You may enter this prize promotion by a) following us on Facebook - http://www.facebook.com/HuffPostUKEnt b) following Moviefone UK on Twitter - http://twitter.com/huffpostukent - and then c), Tweeting your answer to the question found at Win Tickets To The UK Premiere Of One Day, Starring Anne Hathaway And Jim Sturgess
3. There will be two winners who will win a pair of tickets each, for the winner and one guest, to the UK premiere of One Day in London on 23rd August 2011. Any travel costs or hotel accommodation that may be required to take up this prize are not included. In addition the cost of any meals, and all other personal expenses, spending money and other incidentals are the responsibility of the winners and their guests.
4. The prize promotion closing date is midnight on 20th July 2011 (the "Closing Date") and any entries received after the Closing Date will not be accepted by the Promoter.
5. The winning entry/entries will be selected at random on 21st July 2011 and the winner(s) will be notified via Twitter on this date.
6. If you are notified of a winning entry, you must confirm acceptance within 24 hours of being notified as a winner. If we do not hear from you, we may offer your prize to someone else
7. Neither the Promoter nor the Prize Provider will be held responsible if the screening or the event offered as part of the prize are cancelled due to unforeseen circumstances which are beyond their control.
8. Only one entry per person is permitted.
9. Submission of entries will not constitute proof of receipt and no responsibility will be accepted by the Promoter for entries or acceptances which the Promoter does not receive. The Promoter shall not be liable for any loss or corruption of data in transit. No responsibility will be accepted for entries or acceptances which are lost, delayed or damaged in the post or elsewhere. Illegible, incomplete, late or defaced entries will be disqualified.
10. The prize(s) must be taken as offered. No cash equivalent or other alternative prize(s) are available in whole or in part except as provided for in these terms and conditions.
11. All prize(s) are non-transferable and where prize(s) consist of tickets to events, all such tickets are non-refundable. The Promoter and/or the Prize Provider reserves the right to substitute prize(s) of an equivalent value should the prize(s) become unavailable for any reason. If any winner is not able for whatever reason to accept the prize(s), then the Promoter reserves the right to award the prize(s) to another participant.
12. A list of winners' names and locations can be obtained by sending a SAE to the Promoter after 22nd March 2011.
13. The winner(s) agree to participate in any publicity or other such promotional activities which the Promoter may reasonably require in connection with the prize promotion and the Promoter shall have the right to use each winner's name, likeness, image, voice and biographical information for advertising and promotional purposes in connection with the prize promotion in all media without further notice and without the need to make any payment to any winner for such use.
14. The decision of the Promoter is final and binding and no correspondence will be entered into regarding the outcome of the prize promotion.
15. Promoter: AOL (UK) Limited, Shropshire House, 11-20 Capper St, London, WC1E 6JA.
16. Prize Provider: Universal Pictures (UK) Limited, Prospect House, 80-110 New Oxford Street, LONDON WC1A 1HB
17. By entering this prize promotion, you agree that if you are selected as a winner, AOL (UK) Limited may pass the data submitted on your entry email to the Prize Provider who will issue you with your prize.

SUBSCRIBE TO & FOLLOW UK DAILY BRIEF