John Yates: The Prime Minister's Chief Of Staff Blocked David Cameron Being Briefed On Phone Hacking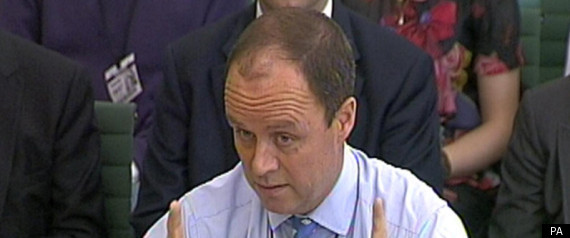 The prime minister's chief of staff Ed Llewellyn was the Number 10 official who blocked David Cameron being briefed on "police protocol" surrounding the phone hacking case, John Yates told MPs today.
He said that Llewellyn had sent an email in September 2010.
"It was a very brief email exchange and Ed, for whatever reason, and I completely understand it, didn't think it was appropriate for him, the prime minister or anyone else at Number 10 to discuss this issue … Very simple, I can understand it in some sense."
In a move that will lead to questions about Llewellyn's position, Yates gave his name when asked about a previous statement by Sir Paul Stephenson that a Downing Street staffer had indicated the prime minister should not be told about the police's involvement with Neil Wallis
During an evidence session at the Home Affairs Select Committee, Yates was repeatedly pressed on his relationship with Neil Wallis, the arrested former News of the World deputy editor who he admitted was a "friend".
Yates said he had received "categorical assurances" from Wallis that his later appointment to the police as a PR consultant would not embarrass the force.
"I sought assurances off Mr Wallis before the contract was let," he said.
"It was a conversation, I made a contemporaneous record of it because I thought it was relevant."
He also said he was not guilty of any wrongdoing when it came to the employment of Neil Wallis' daughter, an action he is being investigated by the Independent Police Complaints Commission for.
"I have done nothing wrong. I was a postbox. I was a postbox for a CV from Mr Wallis' daughter."
He said he had merely passed on her CV to human resources at a time when he had nothing to do with the phone hacking case, in January 2009.
"It happens all the time… I had absolutely nothing to do with her employment," he said.
Yates categorically denied any wrongdoing when pressed by MPs for the second time in a week over the phone hacking scandal.
The Metropolitan police assistant commissioner, who resigned yesterday, told MPs:
"I'm accountable for what's taken place on my watch. I firmly believe I've done nothing wrong … But it is time to stand up and be counted and that is what I've done."
Number 10 have since defended Llewellyn, releasing the entire email exchange, where he wrote to Yates:
"So I don't think it would really be appropriate for the PM, or anyone else at No 10, to discuss this issue with you, and would be grateful if it were not raised please."
However Labour seized on the admission, with shadow home secretary Yvette Cooper saying:
"This shows that David Cameron's misjudgement in appointing Andy Coulson created serious problems at the heart of the Government forcing senior Downing Street officials and the head of the Metropolitan Police to keep important information from the elected Prime Minister because of concerns that he was or could become compromised."