Scores Reported Dead In Fresh Attack On Hama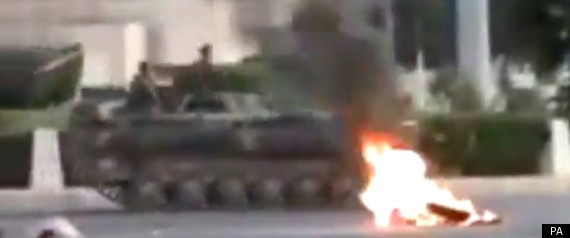 At least 109 Syrians are reported dead after another day of fighting in Hama, according to the human rights group, Avaaz, who are citing 'a medical source' from al-Hourani hospital.

It has been difficult to ascertain a reliable death toll from the city as independent news agencies have been denied access, but CNN has reported rumours of a 'genocide' in one area of the city.
According to Avaaz, many of the dead bodies had short-range bullet wounds, usually to the head. A Hama resident told CNN that many injured people are dying in hospital because they are without supplies and electricity.
Communications, electricity and water remain cut off, while residents are growing short of food and medical supplies. Protests continue, though tanks have filled the town centre and shells continue to hit buildings.
According to Rami Abdul-Rahman of the Observatory for Human Rights, around a thousand families had fled in the past two days.
Sunday was one of the deadliest days since the uprising began five months ago. Since then, the international community has been putting diplomatic pressure on Syria to end its military action. Tension in the major cities has increased since the holy month of Ramadan started on Monday.
By Wednesday, the UN Security Council had hardened its stance towards the regime. "Those responsible for the violence should be held accountable," it announced in its first statement since the protests began. The British foreign secretary, William Hague, echoed the sentiment, saying "I call on President Assad's regime to end its violence and to allow genuine political reform". However, Amnesty International was entirely unimpressed by the UN's response, describing it as "completely inadequate".
The resulting decree on Thursday from President Assad allowing a multi-party system has been met with suspicion.