Hi-Tech Wrap For Olympic Stadium Finds Sponsor At Last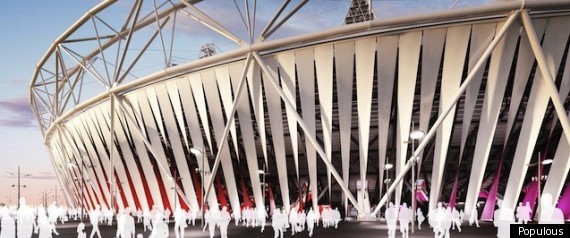 PRESS ASSOCIATION -- The Olympic Stadium will get the hi-tech fabric wrap that was ditched in the Government spending cuts.
The Dow Chemical Company, an Olympic sponsor, is funding the wrap which was controversially scrapped to save £7 million after the Government's October spending review. Savings of £20 million had been called for.
It will have 336 individual panels, each of which will be about 25 metres high and 2.5 metres wide. Installation is set to begin in spring 2012.
It is designed to provide an eye-catching and colourful curtain around the steel girders, breeze blocks and seating of the £486 million Olympic Stadium.
The Dow Chemical Company is a Worldwide Olympic Partner and the official chemistry company of the Olympic Movement.
London 2012 chairman Lord Coe said the wrap would be used in a "sustainable way" adding: "The stadium will look spectacular at Games time and having the wrap is the icing on the cake."
London 2012 said it had received "significant interest" from the private sector to supply the wrap, triggering a formal tender announcement in February.
Olympics minister Hugh Robertson said he is "delighted" the private sector has stepped in as savings are being sought from the £9 billion Olympic project.
He said: "At the comprehensive spending review last autumn, the Government could see the benefit of the wrap but did not feel the taxpayer should pay for it as we looked to make savings across the project."
Keith Wiggins, Dow UK's managing director, said the company's focus on innovation and scientific excellence would be behind "every stitch" of the wrap.