Afghanistan's Bloodiest Attack As 37 Die In Helicopter Crash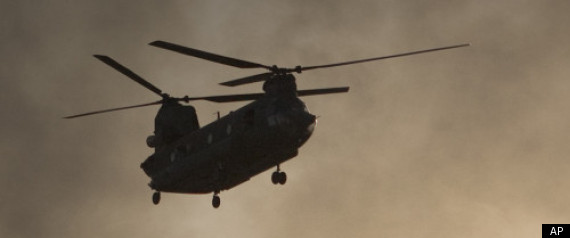 PRESS ASSOCIATION -- A military helicopter has crashed in eastern Afghanistan, killing 30 US special operation troops and seven Afghan commandos, the country's president said.
More than 20 Navy SEALs from the unit that killed Osama bin Laden were among those lost in the crash, according to reports, although none of those killed were thought to have been part of the mission that killed the al Qaida leader.
The operators from SEAL Team Six were flown by a crew of the 160th Special Operations Aviation Regiment.
One source says the team was thought to include 22 SEALs, three Air Force air controllers, seven Afghan Army troops, a dog and his handler, and a civilian interpreter, plus the helicopter crew.
An American official said the helicopter was apparently shot down, in the deadliest single incident for American forces in the decade-long war.
The Taliban claimed they downed the helicopter with rocket fire while it was taking part in a raid on a house where insurgents were gathered in the province of Wardak. It said wreckage of the craft was strewn at the scene.
Nato confirmed the overnight crash took place and that there "was enemy activity in the area." But it said it was still investigating the cause and conducting a recovery operation at the site. It did not release details or casualty figures.
President Barack Obama mourned the deaths of the American troops, saying in a statement that the crash serves as a reminder of the "extraordinary sacrifices" being made by the US military and its families. He said he also mourned "the Afghans who died alongside our troops".
Afghan President Hamid Karzai gave the first public statement on the new crash, saying in a statement that "a Nato helicopter crashed last night in Wardak province" and that 31 American special operations troops were killed. He expressed his condolences to Mr Obama.
The helicopter - a twin-rotor Chinook, said an official at Nato headquarters in Brussels - took place in the Sayd Abad district of Wardak province, according to a provincial government spokesman, Shahidullah Shahid. The volatile region borders the province of Kabul where the Afghan capital is located and is known for its strong Taliban presence.