A Bleak Week For The Capital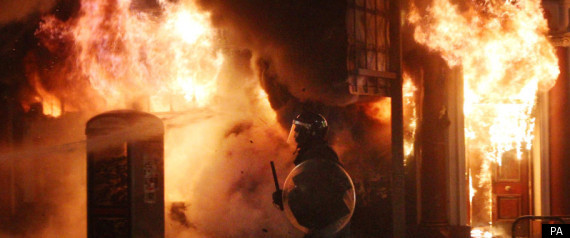 With the arrival of the Olympics in 2012, London was set to bask in the glow of regeneration, growth and a prosperous economy.
Instead, the capital finds itself mired in rioting, looting and destruction, amid the worst financial crisis since 2008.
In what is perhaps the bleakest week for London since the attacks of 7/7, High Streets and town centres have been reduced to scenes of ruin and devastation.
On Saturday, cars, buses… entire buildings were set ablaze in Tottenham, whilst on Sunday, nearby Enfield, more market-town than inner-city suburb, witnessed multiple arrests as youths went on the rampage, breaking into shops, vandalising cars and stealing goods.
Copycat looting was reported in Palmers Green, Walthamstow and Brixton, as gangs, organised by social media, used Saturday's disturbance in Tottenham as an excuse for lawlessness and mayhem.
In the city, financial turmoil mirrors the destruction of London's outer districts, with the FTSE dropping nearly 10 per cent last week, and a further three per cent today.
Further drops look likely as the Sovereign Debt Crisis, once the problem of the eurozone's periphery, moves inextricably inwards, threatening to engulf the continent's major economies.
The police now fear the violence may spread to Hackney, an eastern-laying suburb neighbouring Stratford and the Olympic development that promised to do so much for London's prestige. This evening a stand-off appears to be developing between youths and riot police.
With the city on the brink of a third night of rioting and the financial chaos showing no sign of abating, a similar rebuilding job will be needed for London's tattered reputation.