Over 450 people have been arrested and 44 police officers injured after London suffered its third night of riots, looting and arson attacks on Monday evening, the capital's Deputy Mayor has said.
Kit Malthouse said rioters attempted to murder a police officer and admitted officers were stretched as they struggled to cope with the violence.
"We had 44 who reported injured this morning, four seriously, it looks like we're going to have an allegation of attempted murder on one particular police officer so it was a very serious night and a very stretching night and I have to say I feel for all those people who've woken up this morning to see the charred remains of their businesses, perhaps their homes, and who've suffered in London, it's really been a terrible night", he told the BBC.
(SCROLL
DOWN FOR LIVE UPDATES)
A man was also shot during riots in Croydon and 14 bystanders were injured in the worst violence in living memory police said on Tuesday morning.
"Last night was the worst the MPS has seen in current memory for unacceptable levels of widespread looting, fires and disorder...
"Disturbing levels of violence were directed at officers again, leading to 44 being injured last night, which included an officer being driven at resulting in broken bones, and another officer receiving an eye injury that is likely to need surgery (separate incident).
14 members of the public were also hurt, including a man in his 60's who has life threatening head injuries."
They warned: "Those involved in criminality should be under no illusion that we will pursue you. We have been making arrests all evening and have a team working during the night examining CCTV images. We will follow up evidence in the coming days in order to bring anyone else responsible for criminal acts to justice."
Deputy Mayor Malthouse also said this morning that those propagating the disorder were attempting to attack fire and ambulance crews.
"Part of the problem for us was that people were spontaneously erupting in these mindless and crazy acts of violence across London and the challenge for us was to focus on the most serious areas and deal with them, to protect fire and ambulance crews that were coming under sustained attack and then to be very mobile across London and move our assets, if you like, as quickly as we possibly could and in that movement there may be some people that we didn't get to very quickly and I'm sorry for that but it was obviously a very testing evening and we need to make sure that we improve performance this evening and get even more police officers out there."
His comments come as the prime minister and Boris Johnson cut their holidays short to deal with the crisis.
The government's emergency committee Cobra will be convened this morning to discuss how to deal with the riots.
11/08/2011 20:35 BST
Arrest Figures Update
West Midlands Police have announced that they have arrested 389 people in connection with the riots.
11/08/2011 20:31 BST
Sky News Debate
Peter Hitchens: "People riot because they are wicked, selfish and lawless...we have dismantled every form of authority in society."
11/08/2011 20:14 BST
Sky News Debate
For the next hour Sky News is hosting a debate on the riots, with journalists Peter Hitchens and David Aaronovitch. It could get interesting...
11/08/2011 19:52 BST
Sky News: 186 Police Injured
| | |
| --- | --- |
| | @ SkyNewsBreak : 186 Metropolitan Police officers reported injured since Saturday |
11/08/2011 19:51 BST
Sky News: New Arrest Numbers
| | |
| --- | --- |
| | @ SkyNewsBreak : Metropolitan Police have arrested 950 people so far since starts of the riots, 457 of those have been charged |
11/08/2011 18:58 BST
Police and arrest update
The met police have arrested a thug for robbing an injured student during the riots.
He is one of 950 people who have been arrested in connection with violence, disorder and looting by the metropolitan police. A total of 457 people have been charged.
11/08/2011 16:06 BST
Update On Rioters:
| | |
| --- | --- |
| | @ SkyNewsBreak : Met Police: Roughly half of 240 people who have appearedin court so far charged over London riots were under 18 |
11/08/2011 15:05 BST
| | |
| --- | --- |
| | @ TimGatt : K Clarke tells Sky:"This is worse than 25 yrs ago[...]There are several sections of the population that are much more totally irresponsible" |
11/08/2011 14:11 BST
Interesting On Morality And Politics From The Telegraph's James Kirkup
Mr Cameron has set himself an enormous task here, effectively pledging to reverse the drift of popular culture in Britain and change the way the country thinks and feels.
11/08/2011 14:01 BST
While this continues, Met police have been making more arrests and raided properties - officers in Brixton, south London, recovered clothing and an iPod,
In Pimlico, West London, they found £1,600 in cash and "thousands of pounds worth of Hugo Boss clothing - all still with the labels on."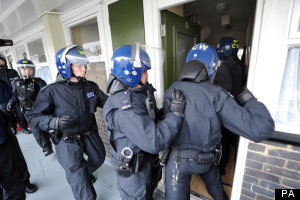 SUBSCRIBE TO & FOLLOW UK DAILY BRIEF