Thousands of police are out on the streets of the UK in an effort to prevent a fifth night of rioting.
Both Manchester and Birmingham have 1,000 officers on duty, while large numbers are available should trouble arise in London.
Though minor skirmishes have been reported, police have so far faced nothing on the scale of previous night's unrest.
Police have been have been called to Eltham in south east London in response to vigilante groups of local men taking to the streets. However, following a substantial deployment of officers in full riot gear, the standoff remains calm.
The disturbance in Eltham follows a similar pattern to last night, when police were called to the area to contain a group of around 300 disgruntled local residents, with some bottle throwing reported. According to the the men, they had amassed in defiance of rioters to defend their homes and businesses.

Officers are currently asking local residents to return to their homes.
Earlier today, the father of one of three men killed in Birmingham last night appealed for calm, amid fears of another night of violence in the city.
Tariq Jahan, whose 21 year-old son Haroon was run over and killed last night in Birmingham, has called for people in his community to "grow up and go home".
Making a televised statement Jahan said: "Last night we lost three cherished members of our community... today we stand here to plead with all the youth to remain calm and for our communities to stand united."
Haraoon Jahan was named this afternoon as one of the three men killed in the Winson Green area of the city overnight. The other two men were brothers Shazad Ali, 30, and Abdul Musavir, 31. A 32 year-old man has been arrested, and police are treating the investigation as a murder inquiry. Reports earlier said the dead men had been killed while protecting their community from looters.
(SCROLL DOWN FOR LIVE UPDATES)
The Prime Minister has visited Birmingham this afternoon. He sent the families of the three dead men his deepest condolences, describing the killings as "a truly dreadful incident." Earlier in the day David Cameron announced that "the fight-back has begun" against those who've been involved in four nights of rioting across England, and revealed that the police had been authorised to use water-cannon should they feel they needed to.
The killing of the three men in Birmingham has raised fears of reprisal attacks this evening, and police in major cities in England remain on the highest level of alert. In his statement this evening Tariq Jahan said that the riots were "not a race issue".
"Black, White, Asian we're all part of the same community," he said. "Why do we have to kill each other?... Step forward if you want to lose your sons, otherwise calm down and go home."
Addressing those in the area when his son was killed, Jahan said: "I know you, you know me, we were all there together, please come forward."
However tensions rose immediately after his statement, with several people appearing to chant together for justice. This prompted Jahan to again call for calm. Still live on television, Jahan told the crowd of young people to "grow up" and go home.
His comments echo those by police and politicians, who have urged people not to resort to vigilantism against rioters. Last night dozens of people took to the streets of North London to ward off potential trouble-makers.
In London, the Metropolitan Police has announced that it has arrested 805 people in connection with the riots since Saturday. Of those 251 have been charged. The figures do not include the scores of arrests made around the UK.

Courts have been pushed to quickly process those arrested as the government looks to send out a message of deterrence. Those who have appeared include an 11-year-old boy from Romford in Essex, who admitted to looting the Debenhams store in his home town on Monday night. Because of his age, the boy cannot be named. In court he spoke only to confirm his name, age and date of birth.

The Highbury Court Magistrates in north London, where the youth appeared, has witnessed such an influx of cases that it has been forcing to sit through all of Tuesday night to clear the backlog. A similar vigil is expected tonight as more looters and rioters are brought to justice.

Also appearing before Highbury Court was 31-year-old Alexis Bailey, who pleaded guilty to burglary with intent to steal from Richer Sounds in Croydon. He was released on bail and will be sentenced at Wood Green Crown Court at a future date.

Speaking outside Downing Street earlier today, David Cameron said: "The courts sat through the night last night and will do so again tonight. It is for the courts to pass sentence but I expect anyone convicted of violent disorder to be sent to prison. We needed a fight back and a fight back is underway."

In Croydon, the Magistrates court has processed twice as many cases as it would in a typical sitting. Those charged include Joseph Levy, a 41-year-old drug addict who stole a bottle of wine. Also appearing was Ohene Bamfo, a 20-year-old charged with robbery theft and violent disorder, who was remanded in custody. A 14-year-old girl charged with stealing a camera also appeared.
11/08/2011 20:35 BST
Arrest Figures Update
West Midlands Police have announced that they have arrested 389 people in connection with the riots.
11/08/2011 20:31 BST
Sky News Debate
Peter Hitchens: "People riot because they are wicked, selfish and lawless...we have dismantled every form of authority in society."
11/08/2011 20:14 BST
Sky News Debate
For the next hour Sky News is hosting a debate on the riots, with journalists Peter Hitchens and David Aaronovitch. It could get interesting...
11/08/2011 19:52 BST
Sky News: 186 Police Injured
| | |
| --- | --- |
| | @ SkyNewsBreak : 186 Metropolitan Police officers reported injured since Saturday |
11/08/2011 19:51 BST
Sky News: New Arrest Numbers
| | |
| --- | --- |
| | @ SkyNewsBreak : Metropolitan Police have arrested 950 people so far since starts of the riots, 457 of those have been charged |
11/08/2011 18:58 BST
Police and arrest update
The met police have arrested a thug for robbing an injured student during the riots.
He is one of 950 people who have been arrested in connection with violence, disorder and looting by the metropolitan police. A total of 457 people have been charged.
11/08/2011 16:06 BST
Update On Rioters:
| | |
| --- | --- |
| | @ SkyNewsBreak : Met Police: Roughly half of 240 people who have appearedin court so far charged over London riots were under 18 |
11/08/2011 15:05 BST
| | |
| --- | --- |
| | @ TimGatt : K Clarke tells Sky:"This is worse than 25 yrs ago[...]There are several sections of the population that are much more totally irresponsible" |
11/08/2011 14:11 BST
Interesting On Morality And Politics From The Telegraph's James Kirkup
Mr Cameron has set himself an enormous task here, effectively pledging to reverse the drift of popular culture in Britain and change the way the country thinks and feels.
11/08/2011 14:01 BST
While this continues, Met police have been making more arrests and raided properties - officers in Brixton, south London, recovered clothing and an iPod,
In Pimlico, West London, they found £1,600 in cash and "thousands of pounds worth of Hugo Boss clothing - all still with the labels on."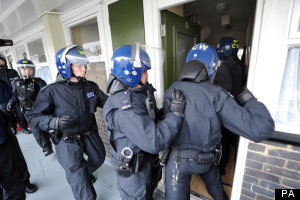 This Blogger's Books and Other Items from...
SUBSCRIBE TO & FOLLOW UK DAILY BRIEF