Deaths Reported In Syria After Government Repression Of Latest Wave Of Protests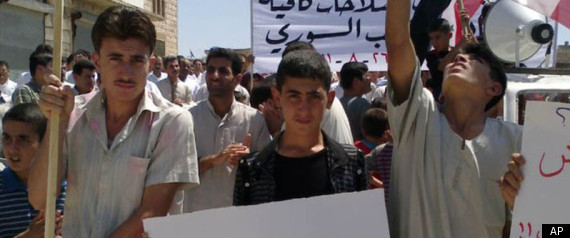 Nine people were killed by government forces in Syria as protests against President Bashar al-Assad's regime drifted towards a bloody stalemate, activists have said.
Avaaz.org named the nine people killed, and said that many more had been injured after the latest series of demonstrations in several cities in the country were attacked by security forces.
The moved appear to suggest a redoubled attempt by President Assad to crush the movement.
Up to ten thousand people were reported to have gathered in the city of Homs for protests, activists from Avaaz.org said.
Footage was released online which appeared to show Syrian troops firing at close range and protesters taking cover as they were fired upon. It is not thought that the two clips are related, however.
There are now rumours that greater numbers of armed forces are on their way to the city.
In the eastern city of Deir el-Zour two people were shot and killed by government forces firing live ammunition, Avaaz said. A third man was shot in the chest but is not reported to have died.
There was also a large presence of security forces in Damascus and the nearby suburbs.
One eyewitness said that between 6,000 and 7,000 people gathered for a single protest near to the Great Mosque in the town of Douma. Once the protest had begun to break up security forces were said to have "shot randomly on the crowd". There were also reports of tear gas being used.
In Irbin, another Damascus suburb, live bullets were fired on a protest of more than 3,000 people. In Hamouria, activists said that at least five people were shot in similar scenes of protests.
"I was in central Damascus, in Midan, today," said 'Alexander', a witness working with Avaaz. "Just as we were moving out, security forces opened fire on demonstrators in Nahar Eshe, an area just nearby."
"Consequently, protesters from both areas got into a rock and stone fight with the regime forces. There were about 500 people taking part in the demonstration, but the rock fight broke down into about 50 people. There were no injuries but I saw several people being hauled away."
More than 2,000 people have been killed since the uprising against Assad's regime began in March, Activists have said.