Colonel Gaddafi still poses a threat to Libya, the National Transitional Council has warned, as a Tripoli resident revealed many citizens are still scared of the dictator even in the wake of rebels taking control of the city.
Mustafa Abdul Jalil, head of the NTC, said there was still a risk of counter-attack in Libya and beyond as he held a meeting with Nato envoys in Doha, Qatar on Monday.
His warning came as 25-year-old Tripoli resident, Zuhair Abu Srewil, told the Huffington Post UK the capital is rife with rumours about the possibility of revenge attacks by Gaddafi forces.
"They say maybe he has a back-up plan, maybe he is going to bomb the whole city, there are some rumours the water was poisoned by Gaddafi, so they cut the water off and there's no water now."
Following a statement from Human Rights Watch's North Africa Director, Sarah leah Whitson, on Sunday said evidence indicated "Gaddafi government forces went on a spate of arbitrary killing as Tripoli was falling", Abu Srewil said he knew many who had died.
"Lots of people have died. Each family has maybe one or two. About 12 days ago by Gaddafi's militias, there were 10 people who were playing cards, they arrested five and two days ago we got informed the five got slaughtered. And then they got bullets all over their bodies. We had never seen something like that."
He added: "I met a doctor in Tripoli, he told me this story his friends in other hospitals got killed by Gaddafi's forces because they were treating the rebels."
Last week Al Jazeera told National Public Radio (NPR) that dozens of corpses has been discovered at a hospital after fighting between rebel and loyalist forces.
Abu Srewil said before the uprising, he assumed Gaddafi would crush any rebellion against his rule. "I would never expected it. I always think I would live in Gaddafi's regime, I will die in Gaddafi's regime.
"Gaddafi is very coward. I think he's either been hiding in one of his tunnels underground. He has a lot of them. Everything he has is connected, it's up to 10km, a whole city down there. Either he'll be in Algeria or some African country."
The Tripoli student said his emotions about the rebel victory in his city were mixed.
"I lost some dear friends. So I'm happy but we lost a lot. After Gaddafi's gone, then we can celebrate", he said.
"It's celebrating mixed with fear."
The comments came as the Foreign Office announced Britain were placing a small team of diplomats in Tripoli on the ground as part of the preparations before they establish a wider diplomatic presence.
"The Prime Minister announced on 22 August that the UK would establish a British diplomatic presence in Tripoli as soon as it is safe and practical to do so. A small FCO-led team, consisting of diplomatic and technical staff, is now on the ground in Tripoli.. This reflects the recent military progress which means that some members of the NTC have already moved to Tripoli", a spokesperson said on Monday.
"We remain in regular consultation with the NTC about our plans. Notwithstanding the deployment of a preparatory team, no date has been set for the opening of the British Embassy. This will depend on political and security developments over the coming days."
08/29/2011 8:31 PM EDT
Witness Says Gaddafi Troops Killed Nearly 150 Prisoners
CNN reports:
Muneer Masoud Own, 33, who made a living doing manual labor, said forces loyal to longtime Libyan leader Moammar Gadhafi slaughtered nearly 150 prisoners as rebels closed in on Tripoli last week.

Charred bodies littered the ground around a warehouse -- roughly 30 feet by 45 feet -- where the detainees were kept. A volunteer who helped remove them, Bashir Own, estimated that he had seen about 150 bodies. He is not related to Muneer Own, who said he barely escaped an ordeal that started about a month ago.
08/29/2011 6:02 PM EDT
Prayer In Benghazi
Dozens of Libyans perform the last late afternoon prayer of the Muslim holy month of Ramadan at Freedom Square in the eastern Libyan port city of Benghazi on August 29, 2011.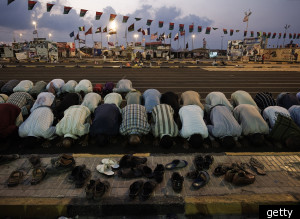 08/29/2011 5:01 PM EDT
Gaddafi Intelligence Chief May Be Killed
Libya rebels claim to have "almost certain information" that Gaddafi's intelligence chief was killed.
| | |
| --- | --- |
| | @ Reuters : FLASH: Libya rebels have "almost certain information" that Gaddafi intelligence chief killed on Sat. -Spokesman tells al-Arabiya TV |
08/29/2011 3:40 PM EDT
Rebel Commander Speaks On Khamis Gaddafi
The rebel commander in Tripoli Al Mahdi Al Haraqi told Reuters that he had confirmation that Khamis Gaddafi has been killed in a clash near Ben Walid.
Reuters writes:
He was taken to a hospital but died of his wounds and was buried in the area, Al-Haragi said, without giving the timing. No independent confirmation of the death was available.

A U.S. official, speaking on condition of anonymity, told Reuters the United States could not yet independently confirm Khamis' death but said similar information was being received in Washington from "reliable sources."
Rebels claimed twice before Khamis Gaddafi was killed.
08/29/2011 3:15 PM EDT
NTC Considers Sheltering Of Gaddafi Relatives An Act Of Aggression
Libya's National Transitional Council reacted strongly on the message that relatives of Gaddafi would have arrived in Algeria, Reuters reports.
A spokesperson for the NTC said it considers sheltering members of Gaddafi's family an act of aggression.
"We have promised to provide a just trial to all those criminals and therefore we consider this an act of aggression," spokesman Mahmoud Shamman told Reuters.
"We are warning anybody not to shelter Gaddafi and his sons. We are going after them in any place to find them and arrest them," he said.
08/29/2011 2:42 PM EDT
Khamis Gaddafi Reportedly Killed -- Again
A rebel commander in Tripoli claims Gaddafi's son Khamis has been killed in clashes in southern Libya.
Khamis was claimed killed twice before.
| | |
| --- | --- |
| | @ Reuters : FLASH: Gaddafi's son Khamis killed in clashes in southern Libya -Rebel commander in Tripoli |
08/29/2011 2:35 PM EDT
ENI Reaches Agreement On Gas Export
AFP reports Italian energy company ENI reached an agreement with the Libyan National Transitional Council to take up gas supplies to Italy.
08/29/2011 2:12 PM EDT
Libya Rebels Seek Extradition Gaddafi Family
Libyan rebels they seek the extradition of Gaddafi's family members who fled to Algeria.
| | |
| --- | --- |
| | @ Reuters : FLASH: Libya rebels say will seek extradition of Gaddafi family from Algeria |
08/29/2011 2:07 PM EDT
Sky News Reports Gaddafi's Son Has Been Killed
Rebel commanders say Khamis Gaddafi, one of Colonel Gaddafi's most feared sons, has been killed in an air strike south of Tripoli.
08/29/2011 1:15 PM EDT
Algeria Confirms Arrival Of Gaddafi Relatives
Algeria confirms two of Gaddafi's sons, his daughter Aicha and his wife are in the country.
| | |
| --- | --- |
| | @ Reuters : FLASH: Algeria confirms two of Gaddafi's sons, wife and daughter are in the country - Al-Jazeera TV |
SUBSCRIBE TO & FOLLOW UK DAILY BRIEF