United States Takes Legal Action Against RBS, HSBC And Barclays Over Mortgage Securities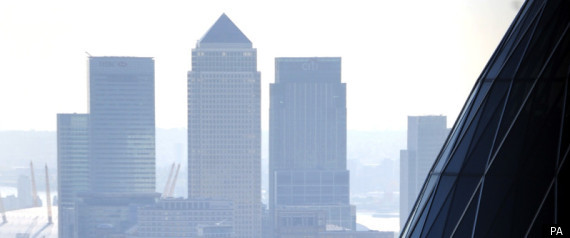 PRESS ASSOCIATION -- The US government has begun legal action against 17 financial firms, including the country's largest banks, for selling billions worth of mortgage-backed securities that turned toxic when the housing market collapsed.
Among those targeted by the lawsuits were Bank of America, Citigroup, JP Morgan Chase, and Goldman Sachs Group. Large European banks including The Royal Bank of Scotland, Barclays Bank and Credit Suisse were also sued.
The lawsuits were filed by the Federal Housing Finance Agency which oversees Fannie Mae and Freddie Mac, the two agencies that buy mortgage loans and securities issued by the lenders.
The total price tag for the mortgage-backed securities sold to Fannie and Freddie by the firms named in the lawsuits were 196 billion dollars (£121bn).
The government did not say how much it was seeking in damages, but wants to have the securities sales cancelled and wants to be compensated for lost principal and interest payments, as well as legal fees.
The government action is a big blow to the banks, many of which have seen their stock prices fall to levels not seen since the financial crisis in 2008 and 2009. Until now, the stocks have been undermined mostly by unrelated worries about the US and European economies.
It is particularly damaging to Bank of America, which bought Countrywide Financial Corp. in 2008 and Merrill Lynch in 2009. All three are being separately sued by the government for mortgage-backed security sales totalling 57.5 billion dollars (£32bn).
After Bank of America, JPMorgan Chase was listed in the lawsuits with the second-highest total at 33 billion dollars (£20.3bn). Royal Bank of Scotland followed at 30.4 billion dollars (£18.7bn).
Bank of America has already paid 12.7 billion dollars this year to settle similar claims. Last month insurer American International Group Inc. sued the bank for more than 10 billion dollars for allegedly selling it faulty mortgage investments.
Bank of America today rejected the claims in the government's lawsuits.
Fannie and Freddie invested heavily in the mortgage-backed securities even after their regulator said they did not have the needed risk-management capabilities, the bank said.
"Despite this, (Fannie and Freddie) are now seeking to hold other market participants responsible for their losses," it said.
US bank stocks fell sharply last night as news of the government's lawsuits emerged. Bank of America tumbled 8.3%, JP Morgan Chase fell 4.6%, Citigroup lost 5.3%, Goldman shed 4.5% and Morgan Stanley ended down 5.7%.
Residential mortgage-backed securities bundled pools of mortgages into complex investments. They collapsed after the property bust and helped fuel the financial crisis in late 2008.
The FHFA said the mortgage-backed securities were sold to Fannie and Freddie based on documents that "contained misstatements and omissions of material facts concerning the quality of the underlying mortgage loans, the creditworthiness of the borrowers, and the practices used to originate such loans".
The FHFA filed a similar lawsuit in July against Swiss bank UBS AG, seeking to recoup more than 900 million dollars in losses from mortgage-backed securities.
Also sued last night were are Ally Financial, formerly known as GMAC; Deutsche Bank; First Horizon National; General Electric; HSBC North America Holdings; Morgan Stanley; Nomura Holding America; and Societe Generale.
JPMorgan, Goldman, Citigroup and Morgan Stanley declined to comment on the lawsuits. Ally Financial said the government's claims were "meritless" and the firm "intends to defend its position aggressively". A spokeswoman for First Horizon said the bank intended to "vigorously defend" itself.
Ken Thomas, a Miami, Florida-based banking consultant and economist, said he expected the banks to settle with the government soon.
"This will be nothing but a distraction to them and the quicker you settle something like this the better," he said.