When Big Oil Meets The Big Society: 'Oil Clubs' Save Villages Thousands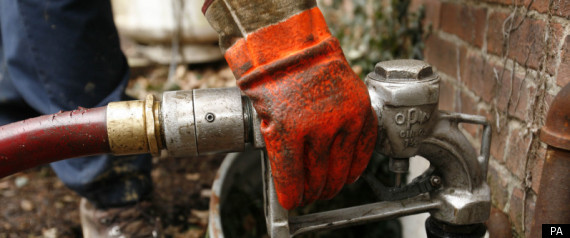 If you ever drive through the village of Bunwell, about 15 miles outside of Norwich, you might notice the thatched rooftops, the picturesque post office and the fields just beyond the tree line.
You'd be forgiven, though, if you missed the fact that its residents also represent a new front in the battle against rising energy prices.
Like many villages Bunwell lacks a central gas line, which means most residents have to heat their homes using heating oil. That can be costly, especially when the oil is bought individually.
But in this village, and in many others around the country, residents are now using the power of the web to organise together and purchase oil as a group - and they're saving huge amounts of money in the process.
Since it launched about 10 years ago the Bunwell Bulk Heating Oil Ordering Scheme has added around 300 members, each of whom order an average of 750 litres of oil three times per year.
That's a total order of 675,000 litres per year, on which the club saves about three to four pence per litre through ordering in bulk.
Over a year that totals a saving of £27,000, or an average of £90 a head. Not bad for a service run by three people who give up about eight hours every three months to take orders, check market prices, negotiate a price and tell their members the good news. Organising using email and price comparison websites has only made things easier, its members say.
And at a time when most people's energy bills are rising - gas and electricity prices rose by 5.1 per cent in the 12 months to August 2011 after both Scottish Power and British Gas raised their tariffs, and the Citizens Advice Bureau have reported a rise of 78 per cent in people searching for help to saving money on heating - it's almost a miracle.
"For the pensioners who are struggling to pay heating bills, it's a real benefit to them," said Nigel Crouch, a retired resident of Bunwell who joined the scheme about five years ago and now helps to run it with two other people. "And the people who can afford it a little bit easier still get a good price as we check carefully."
The Bunwell group is growing so quickly they are looking for extra help to keep it going. And keep it going they will - because the difference it makes to the community is very real.
"It's helping the local community without a doubt," Crouch said. "There is some hidden poverty in our local villages, and those people have to buy the oil like the rest of us because we don't have the direct gas supply.
"It's a good service and it helps people. And if they're pretty elderly they also get someone they know on the phone who isn't pushing them to buy but just letting them know."
The Citizens Advice Bureau and the Department of Energy and Climate Change agree that the Bunwell scheme represents a new future for heating oil customers. The CAB already provide help and resources to get clubs started. And on Wednesday they announced a campaign to urge people to buy their heating oil early, and to get the best deal possible by joining an oil club similar to the one in Bunwell.
Gillian Guy, who is the chief executive at Citizens Advice, said: "Citizens Advice wants everyone to get the best deal they can, and our evidence suggests that the best way of doing this for people living off-grid is to buy as early as possible, and join a collective purchase initiative like an oil club."
Around 3.6 million UK households are off-grid, according to the Office of Fair Trading and 1.5 million UK households use heating oil as their primary source of heat. More than 5.5 million households in the UK are considered 'fuel poor' and up to 30 per cent who do not have mains gas live in fuel poverty.
Unfortunately for the oil clubs it isn't as easy as it could be to find the best price for their mass purchases, even after they've organised together for the task.
A recent Office of Fair Trading investigation into the 'off-grid' energy sector (the results of which will be released in October) found that several so-called price comparison websites who purported to show the best deals for heating oil were run by … heating oil companies.
Some of those websites only displayed their own products, while others did not show the best deals.
WCF Fuels Limited, which runs fuelfighter.co.uk, claimed to make price comparisons but only showed prices of its own products. It also used false customer testimonials. Another site, boilerjuice.co.uk, was found to have obscured its links to parent company DCC plc, which owns GB Oils Limited, the largest heating oil distributor in the UK.
The businesses investigated have since voluntarily made changes to their websites. But groups such as the Bunwell oil club still say it is difficult to shop around for the best deal.
They will surely look ahead with interest to the full Office of Fair Trading report in October. In the meantime the cold is coming - and heating bills are only going up.
Charles Hendry, Energy Minister, said: "The early snow last December shows that it is better to stock up before the winter, when suppliers have spare delivery capacity and prices are likely to be lower than when demand is higher.
"Clearly, leaving orders to the last minute risks longer delivery times, especially if cold weather increases demand and disrupts transport making deliveries difficult."