UK Riots: One In Four Charged Rioters Had Committed Over Ten Previous Offences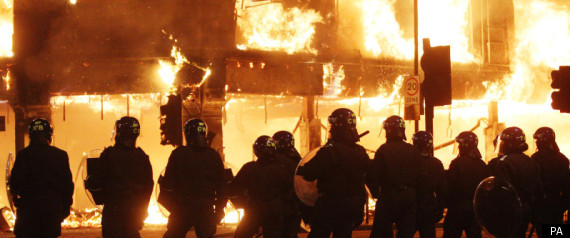 A quarter of people charged over the UK riots had committed more than 10 offences in the past, according to figures released on Thursday morning.
The Ministry of Justice statistics came as the Home Affairs Select Committee met to discuss the police's response to the riots.
Greater Manchester Police's Chief Constable Peter Fahy told MPs he agreed it was wrong for police to arrest their way out of riots. His Assistant Chief Constable, Terry Sweeney, added community work was "fundamental" to limit the extent of riots.
He said rioters had "thought through some of the tactics" for dealing with police "very carefully" and used methods such burning out bins so police vans could not pass through burnt plastic on the road.
"Things like water cannon, I think they would have been, probably, captured, or certainly attacked themselves. And rubber bullets, again, the whole thing was too fast moving."
West Midlands police chief Chris Sims told MPs that he believed merely punishing criminals would not prevent reoffending. "We need to find ways of actually sort of bettering the people that we punish".
He added: "Every criminal justice intervention ought to have a forward look to it about future behaviour. It can't be enough to simply punish. Prisons are not just about punishment, they are about rehabilitation".
Earlier Justice Secretary Ken Clarke said Thursday's statistics "confirm that existing criminals were on the rampage".
"I congratulate the courts for delivering swift and firm justice, which stopped the riots spreading further.
"I am dismayed to see a hardcore of repeat offenders back in the system. This reinforces my determination to introduce radical changes to ensure both effective punishment and reform to tackle reoffending.
"We are making our jails places of hard work, getting criminals off drugs and alcohol, toughening community sentences and making offenders pay back to victims and communities for their crimes."
An ICM survey for the prison reform trust, released on Wednesday evening, showed 94 per cent of people believe that rioters should be forced to do community payback schemes.
Restorative justice is part of Clarke's changes to the prison system.
Responding to the figures, the prison reform trust said: "When it comes to offenders making amends to victims, this poll indicates that there is more for politicians to agree on than to argue about.
"With a justice bill before parliament, there is scope for a profound change in the way we respond to crime and disorder that would both improve victim satisfaction and reduce reoffending."