Stocks Slump: London FTSE 100 Index Falls Below 5000 Points Amid Recession Fears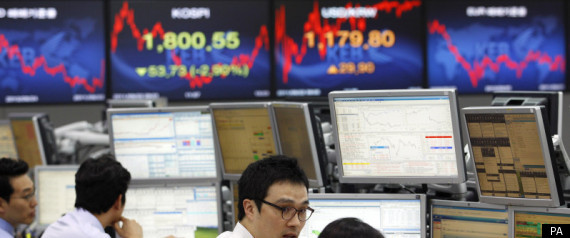 London's FTSE 100 Index has closed at 5066 points, up by half a per cent hours after it fell below the psychologically important mark of 5000 points as two days of market jitters sent stocks into turmoil.
The London share index opened one per cent higher on Friday morning following Thursday's 4.7 per cent drop, but had plunged to 4956 points by mid-afternoon.
European shares also fell again on Friday afternoon as investors remain jittery about global markets.
The main indexes in the UK, France and Germany all fell by between two and 3.5 per cent on Friday.
Some £64bn was wiped off the value of Britain's top 100 companies on Thursday, as world leaders warned of a dire road ahead for the economy.
The share index has not ended a session below 5000 since July last year.
Meanwhile ratings agency Moody's also downgraded eight Greek banks due to their exposure to the country's debt and the deteriorating economy, the Press Association reported.
The move hit sentiment in the already downtrodden sector, with Royal Bank of Scotland falling nearly 2 per cent, Barclays dropping more than 1 per cent and Lloyds Banking Group losing 1.5 per cent.
Prime Minister David Cameron warned that the world's wealthiest nations were close to "staring down the barrel" in a speech before the Canadian parliament on Thursday and called for political will to do what is necessary to fix broken balance sheets.
He called on European nations to show they had the "political will" to "do what is necessary".
"One way or another, they have to find a fundamental and lasting solution to the heart of the problem - the high level of indebtedness in many euro countries.
He has also put his name to a letter to G20 president France - also signed by the leaders of Australia, Canada, Indonesia, Mexico and South Korea - warning that the path out of recession will be "difficult".