Dale Farm: High Court To Rule On Site Eviction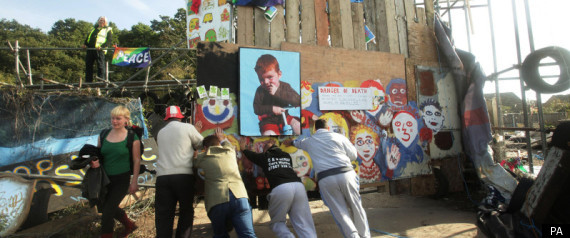 PRESS ASSOCIATION -- Travellers fighting to stay on the UK's biggest illegal site are due to discover whether they have won the latest round of a legal battle.
A High Court judge is due to rule on a bid to block evictions at the Dale Farm site near Basildon, Essex, after hearing legal argument on Friday in London.
Mr Justice Edwards-Stuart granted a temporary injunction preventing Basildon Council from clearing the site - thought to house around 400 travellers - pending a decision.
Travellers say they fear that evictions will not be carried out lawfully and that council officials will "over-enforce". They want the judge to rule that the case raises issues which should be fully aired later at a trial.
Lawyers for the travellers and the council - which says the eviction operation will cost the taxpayer around £18 million - analysed details of eviction plans for specific plots on Friday.
The judge described the debate as a "difficult area".
Travellers have more litigation in the pipeline - which could further delay evictions. They want a judge to review the validity of council eviction decisions. Mr Justice Edwards-Stuart is expected to hear arguments on that challenge in the near future.
The travellers' supporters have called on Basildon Council representatives to "return to the negotiating table", saying that continuing the action will only see costs spiral even further out of control.
Campaign group Dale Farm Solidarity said several high-profile figures had offered to mediate, including Bishops Thomas McMahon and Stephen Cottrell, UN representatives and local MEP Richard Howitt.
Kate O'Shea, from Dale Farm Solidarity, said: "We call on Tony Ball (council leader) to return to the negotiation table. The situation at Dale Farm needs a sensible and common-sense approach, and we urge all parties to use this pause to find an amicable solution."