Ed Miliband Not Seen As A 'Credible Prime Minister-In-Waiting', According to ComRes Poll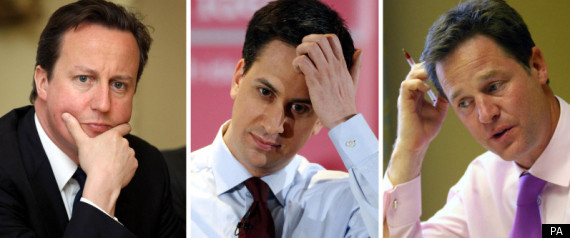 Only one in four voters believe Ed Miliband to be a credible prime minister-in-waiting, according to a survey published on the eve of the Labour leader's speech to his party's conference.
The ComRes poll for the Independent published on Monday evening showed the Conservatives had moved ahead of Labour for the first time since October 2010.
The survey put the Tories on 37 per cent, Labour on 36 per cent and the Liberal Democrats on 12 per cent.
According to ComRes, the figures would leave Labour 12 seats short of an overall majority if repeated at the next general election.
Worryingly for Labour, the the survey, conducted in the days leading up to the party's conference in Liverpool, found only one in four voters regard Ed Miliband as a credible future prime minister.
The Labour leader will be hoping to improve that rating when he makes his keynote speech to the party faithful in the Liverpool conference hall on Tuesday afternoon.
His speech will mark the one year anniversary of his victory over his brother David in the battle to succeed Gordon Brown.
Sir Robert Worcester, the founder of polling firm Ipsos Mori, told a fringe meeting at the conference that Miliband's personal poll ratings were "very, very concerning", as the public appeared to be moving from saying they had no opinion on the Labour leader to saying they were dissatisfied.
According to ComRes, four in 10 people (40 per cent) also said they would be more likely to support Labour if it said sorry for the mistakes it made in running the economy, but 52 per cent disagreed.
In his speech to the conference on Monday, shadow chancellor Ed Balls did admit Labour had made a series of economic mistakes while in power, but he said the previous government was not to blame for the economic crisis.
ComRes surveyed 1000 adults between September 23-25, 2011.
Labour has also lost ground in a separate poll published on Monday. The YouGov survey for the Sun newspaper cut Labour's lead to 41 per cent, just two points ahead of the Conservatives on 39 per cent. The Lib Dems were on on eight per cent.