Ken Livingstone Vows To Cut Transport Fares By Five Per Cent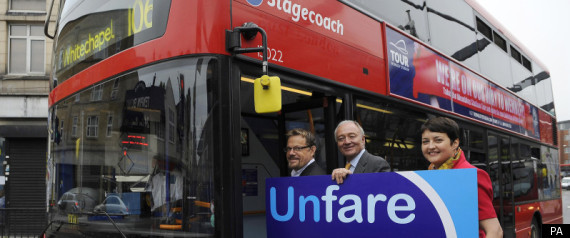 Labour's London mayoral candidate has pledged to cut bus, train and Tube fares in the capital by 5% if he wins the election next year.
Ken Livingstone said an "emergency fares package" was needed, accusing Mayor Boris Johnson of committing Londoners to 20 years of fare increases at 2% above inflation.
He promised a 5% cut in fares in the autumn of 2012, no further fare rises in 2013, and no increases above RPI inflation from January 2014.
Mr Livingstone said: "Fares must be cut, on transport grounds to make the system more attractive, but also on economic grounds to put ordinary Londoners first by putting money back in the pockets that will boost the London economy.
"I'm drawing a line in the sand - Boris Johnson will hit you with a painful fare increase this coming January, but if I am elected by October the fares will be cut. There could be no clearer choice.
"The cost of travelling by buses, Tubes, trams and trains in the capital will fall in 2012, and it will not rise by more than inflation after that.
"These decisions will save Londoners hundreds and in some cases thousands of pounds. Under Conservative Mayor Boris Johnson and his Conservative-led Government, millions of Londoners are less well off and less safe."
Mike Tuffrey, a Liberal Democrat London Assembly member, said: "Boris Johnson has seriously hiked up fares and has hit low income Londoners especially hard by his 55% rise in bus fares and his failure to address Oyster overcharging.
"However, Ken Livingstone's record on fares was far from perfect. He has a track record of hiking up fares between elections and then holding them down in an election year. Londoners would be wise to look at his real record and not be taken up in by rash promises he makes at a Labour Party conference.
"Ken Livingstone should also recognise that reserves can only be spent once. Cutting fares without cutting running costs as well would eventually bankrupt Transport for London."