British Horse Racing Authority Introduce New Laws To Govern Whip Use In Racing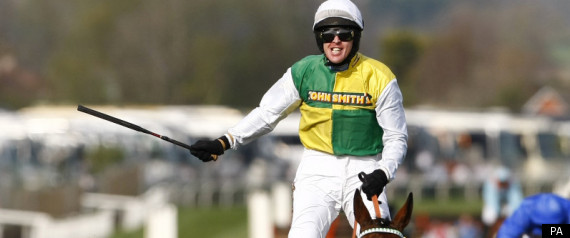 The rules on the use of the jockey's whip in horse racing are to be tightened following complaints by animal welfare groups.
Governed by the British Horse Racing Authority (BHA), the existing laws, which ban "excessive use", are to be scrapped and replaced with simple restrictions.
From Monday 10 October, the whip can only be used a maximum of seven times in a flat race, and eight times in a jumps race.
On the final furlong, a maximum of five strokes can be used.
The regulations should reduce the number of strikes on a horse per race by around half.
Stricter penalties are also being introduced, with riders in breach of the new laws facing a minimum five-day suspension.
Jockeys also risk losing their riding fee and prize money.
During April's Grand National at Aintree, jockey Jason Maguire struck the winning horse Ballabriggs 17 times. The rider was subsequently suspended for five days.
The race garnered a slew of complaints, so much so that the BHA commissioned a review into the whip's use.
Paul Roy, the chairman of the BHA, said his organization were "very proud" of the new rules.

He said: "The Board approved every one of the recommendations and the message is loud and clear - we will continue to lead the way in responsible regulation and will make difficult decisions in the best interests of the sport and its participants."
Fourteen-time classic winner Frankie Dettori, who in the past has been suspended for excessive use of the whip, said: "These new rules are easy to understand which will help all jockeys ride within them."
Professor Tim Morris, Director of Equine Science and Welfare, said:
"Use of the whip is, understandably, a sensitive issue. Safeguarding the welfare of racehorses is a priority for the Authority and we are committed to ensuring and enhancing horse welfare, taking an approach backed strongly by current animal welfare science.
Paul Nicholls, Champion Jumps Trainer for the last six years, said the review implemented "sensible and reasonable changes".
Yet despite the tightening of the laws, some animal welfare groups remained determined to bring about a total ban of the whip in racing.
Speaking to the Huffington Post UK, Andrew Tyler, director at the rights group Animal Aid, said that the BHA "has not only failed race horses by sanctioning the continued use of this brutal device, its decision also seriously damages the reputation of the industry."
"The whip is used to bully and intimidate race horses into 'performing' up to and beyond their physical limits. If owners, trainers and jockeys didn't believe they could get the last ounce of sweat from a horse by beating him, then the whip wouldn't be used. To physically punish an animal during the course of a so called sporting spectacle is an obscenity."