Labour Party Conference 2011: Ed Miliband Asked If He Will Bring David Miliband In From The Political Wilderness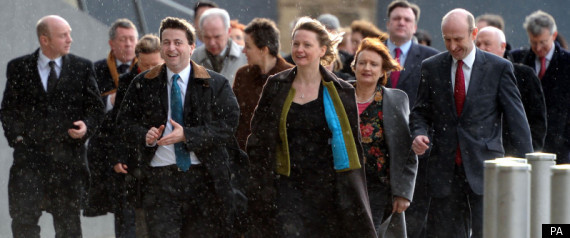 Ed Miliband has answered a call to bring his brother David out of "political Siberia" - by indicating the older Miliband brother would be welcome back on the Labour frontbench.
During a Q&A session at party conference today, Ed Miliband suggested there was still a place in his shadow cabinet for his brother, former foreign secretary David Miliband.
"In the end he's got to decide whether he wants to play a role in the shadow cabinet or not."
But he suggested his brother was "incredibly supportive" of his conference speech "as well as over the last year".
"David is a massive asset to our politics and our party. I've always said I'd be happy to have him back and I want to have him back, but in the end he's got to decide what he thinks the right thing is to do."
And Ed Miliband faced further pressure over his keynote speech to conference, where he criticised benefit cheats, after he was accused of stigmatising disabled people who cannot work.
But he defended himself, saying: "I genuinely don't think that saying you're tough on abuse of the welfare system is a non-Labour thing to do."
The Labour leader is planning a reshuffle of his shadow cabinet after a muted party conference, to ditch poorly performing shadow ministers with low profiles. The move comes after he scrapped shadow cabinet elections, where ministers were chosen by a ballot of their fellow MPs.
Guido Fawkes claims those rumoured to be facing the chop include shadow leader of the House Hilary Benn, shadow energy secretary Meg Hillier and twin sisters shadowing transport and the chief secretary to the Treasury job, Maria and Angela Eagle.
Labour's conference was also buzzing with rumours that shadow media secretary Ivan Lewis would lose his post, following a disastrous speech where he suggested licensing journalists.