From Callas to Te Kanawa to Brightman, there's one for every generation - a stunning, classy woman who manages to break free of the classical world and capture fans otherwise unlikely to delve into Puccini or Verdi.
This era, it's Katherine Jenkins, a Welsh singer for whom, despite her striking outfits and celebrity romance, living under the constant spotlight doesn't come easily. In this month's edition of Good Housekeeping magazine, she speaks out about the pressures of fame, how her love life isn't media fodder and a few other things besides. Here are some titbits:
On being under constant scrutiny:

"The fact I'm in the public eye means I can feel a bit of pressure, but I think I've always wanted to look my best. There are days when you'd like to be less noticeable, to be a bit more anonymous. Everybody has those days, but you almost feel like you can't complain about that –because it's part of the job. I'd just like a bit of normality. I didn't ever want to be a famous celebrity; I wanted to be a singer. I could leave the fame side of it. I didn't ever imagine that I'd get a six-album deal, but I got into this and it's a learning curve: nobody teaches you."

On my relationship with Gethin:

"I think it's good if you can go out with somebody who will understand the requirements and pressures on you. We are private in what we do; we don't go out with each other because we want publicity. We're together because we want to be. It's hard trying to get people to understand that."

"We haven't set a date so I'm not really thinking about plans yet. I'm pretty sure I will have someone to help me organise it, but I think we both want something family based and small rather than big and showy."

"It's such a gift if you are blessed with children and I want to enjoy it – I don't want it to be something I try to fit in around what I'm doing. I would rather have children when I can really enjoy the experience, and if that means I have to wait a bit then that's fine."

"I love fashion, I love anything girly. Everyone always thinks of me in the long dresses I wear on stage, but I also like to wear cocktail dresses. Right now I love the collections of Victoria Beckham. The clothes are very simple but they are meant to accentuate the curves of a woman and that's what I'm about. I think women who are curvy and look like women are the most attractive."

"I really enjoyed doing Doctor Who. I surprised myself because I didn't think I wanted to act. I thought I'd be too far out of my comfort zone. I didn't know I could do it and I got thrown in at the deep end, but I enjoyed it. Now, other things are being offered to me, but it's important to find the right project."

"...performing in an opera is something I haven't done and I'd love to do. I think it's something I will do in the next 18 months. Carmen would be my dream."

Full feature appears in the November issue of Good Housekeeping UK, on sale Monday 3rd October"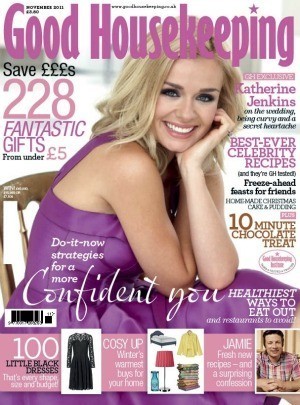 SUBSCRIBE AND FOLLOW
Get top stories and blog posts emailed to me each day. Newsletters may offer personalized content or advertisements.
Learn more