Edinburgh University Governing Body Criticises Westminster Over Tuition Fees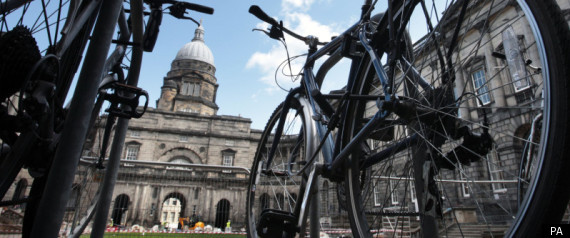 The governing body of a Scottish university which agreed to set fees of £9,000-a-year for students from England, Wales and Northern Ireland has criticised the UK Government over the charges.
A joint statement from the Court of the University of Edinburgh and Edinburgh University Students' Association said the two groups are "deeply concerned" by the negative impact of the new higher education policies of the UK Government.
In September it was announced that the institution will charge students from England, Wales and Northern Ireland £9,000 a year from the next academic year.
There will also be a new internally-funded scheme for access and accommodation bursaries for Scottish-domiciled students.
RUK (rest of the UK) students from the most economically disadvantaged backgrounds who study a four-year degree will also be eligible for a bursary of up to £28,000, and will also be eligible to apply for access awards of up to £5,000.
The joint statement said: "We ask the UK Government to reconsider and then substantially revise the unsustainable policies which have introduced instability across the UK university sector.
"We ask the UK Government to work with universities, the student movement and the Scottish Government to build a system which maintains the quality of university education, which has a much greater emphasis on fairness of access and which ensures higher education is available to all those who are capable of it - not simply those who can afford to pay."
Matthew McPherson, president of Edinburgh University Students' Association, said: "The University of Edinburgh and our students are united in our criticism of the UK Government's new policies on education and are deeply concerned at what effect they will have on students throughout the UK.
"The Edinburgh University Students' Association fundamentally disagrees with the decision to set fees of £36,000, but where we do agree with the university is that it was forced to do something to stop Scottish students being squeezed out."
Robin Parker, president of NUS Scotland, said: "We cannot forgive the University of Edinburgh for going above and beyond anything we've seen down south when setting the highest tuition fees in all of the UK. However, we welcome this call asking Westminster to recognise the damage its policies are having on university education."