Liam Fox's Future In The Cabinet In Doubt Amid Allegations About Relationship With Best Man Adam Werritty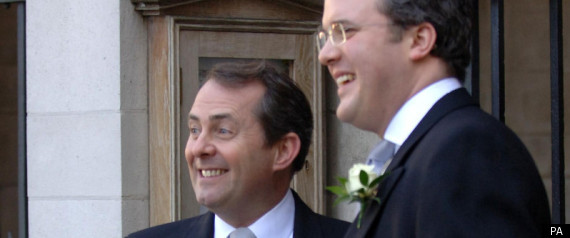 Liam Fox's future in the cabinet is in doubt amid allegations about his working relationship with his close friend Adam Werritty, as evidence emerged that appeared to contradict the defence secretary's denials of wrongdoing.
Fox has been under intense pressure over the last 48 hours after it emerged Werritty, who despite having no official government job or security clearance, accompanied Fox on foreign trips, set up meetings for him and described himself as his adviser.
Central to the allegations are whether Werritty benefited either personally or professionally from his claims to work for the defence secretary.
It has been reported that Werritty set up a June meeting in Dubai between Fox and a company who wanted to sell communications encryption technology to Britain.
Fox said the meeting in Dubai only happened by chance.
But The Guardian has obtained emails that suggest Werritty had in fact been trying to fix up the meeting between Fox and Harvey Boulter, the chief executive of the Porton Group, for some time.
Fox responded to the article by insisting the Guardian had misunderstood his denial and that his meeting with Boulter was not unplanned, but rather Werritty's presence at the meeting was.
"I wasn't referring to this chance meeting between me and the businessmen in question, but between Adam Werritty and the businessman in question," he said.
The paper has also obtained a video that shows Werritty meeting Sri Lankan president Mahinda Rajapaksa with along with the defence secretary in 2010.
And shadow defence secretary Jim Murphy has accused Fox of lying to him about the meeting. Murphy has written to the prime minister saying the MOD investigation appears to have "significant shortcomings"
The letter says: " The terms of reference, however, seek solely to "establish that there has been no breach of security", with no mention of the Ministerial Code."
Murphy adds: "I agree with you when you said that the British people "expect the highest standards of conduct" from politicians. This is an opportunity for you to enforce that sentiment."
When asked about the Fox controversy on the Andrew Marr show on Sunday, former PM Sir John Major said:
"It's extremely difficult to handle these. Either natural justice requires you wait a long time, and you're then said to be incapable of making decisions if you operate under natural justice, or you move too speedily and you're said to be ruthless. The Prime Minister has asked for the facts, to have a first look on Monday, and that is right."
Werritty has also been accused of distributing business cards in the past that said he was an adviser to Fox even though he had no formal role.
Fox has since said he has made it "very clear" to Werritty that it was "unacceptable to carry a card saying that he's a personal adviser."
It is also said that Werritty ran the charity Atlantic Bridge, which promoted UK-US relations, from inside Fox's parliamentary office. Atlantic Bridge has since been closed down following concerns that it was too party political.
Defending himself to the Sunday Telegraph, Fox questioned the motivations of those accusing him of wrongdoing.
"I have absolutely no fear of complete transparency in these matters. I think there are underlying issues behind these claims and the motivation is deeply suspect," he told the paper.
On Friday Fox himself ordered an internal Ministry of Defence inquiry into whether he had breached national security. That inquiry is being carried out by Ursula Brennan, the department's permanent secretary.
She originally expected the investigation to take two weeks. Her report will be examined by the most senior civil servant, Sir Gus O'Donnell.
The move by Downing Street to bring forward the timetable could be seen as an attempt to take control of the situation and ensure the controversy does not drag on for weeks.
A spokesman for No.10 said: "The prime minister has asked the cabinet secretary to examine the initial findings of the MoD permanent secretary review and to report his conclusions to him on Monday.
"While the facts are being established the prime minister remains supportive of the defence secretary".
The ministerial code states that ministers "must ensure that no conflict arises, or could reasonably be perceived to arise, between their public duties and their private interests, financial or otherwise".
Werritty was best man at Fox's 2005 wedding and according to the Daily Telegraph also lived rent free in the North Somerset MP's taxpayer-funded property in 2002-2003.
Labour MP John Mann has said that he has referred Fox to the parliamentary commissioner for standards over the issue.
He said that if Fox should follow the example of former Labour MP Ian Gibson who resigned from Parliament in an identical situation when he had allowed his daughter to live tax free in a taxpayer funded flat.
Mann told the Huffington Post UK that the utility bills of the flat were paid for by the taxpayer through parliamentary expenses system and Werritty would have unfairly benefited from that by "switching on the lights".
"Never mind resigning as defence secretary, he should resign from Parliament immediately," he said.
In a uncomfortable piece of parliamentary timetabling for Fox, he is due to appear before MPs for an hour on Monday at defence questions.
Murphy is expected to ramp up the pressure on his opposite number by demanding he come to the Commons to make a separate statement on the allegations.
"There should be a full statement by the secretary of state on Monday in the House of Commons," he told Sky News.
"If he doesn't volunteer to make a full statement I will seek to summon him. An inquiry is important but so too are direct answers."
The controversy has undermined Fox's trip to Libya, in which he announced a £500,000 funding package and extra military expertise to help Libya's new government.
Will These Allegations Cost Liam Fox His Job?
Predict it!
Beat your friends!
Connect through Facebook or Twitter and challenge your friends