Cameron Says Government Will Stick To The Economic Plan Despite Unemployment Figures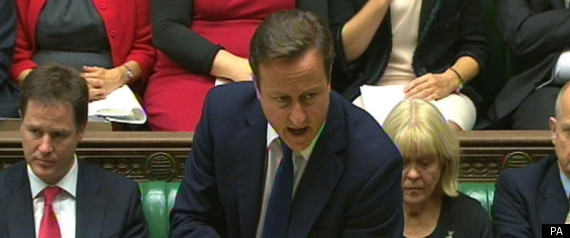 David Cameron has vowed the government will stick to its economic plan despite unemployment hitting 2.57 million across the UK.
The prime minister accepted "responsibility" for the "disappointing" figures during PMQs on Wednesday but said Labour needed to learn that "you cannot borrow your way out of a debt crisis".
But Labour leader Ed Miliband said it was time to admit the "plan isn't working" and, in a jibe at embattled defence secretary Liam Fox, added: "On the day of the worst unemployment figures in 17 years the Prime Minister is fighting to save the job of the defence secretary but he's doing nothing to save the jobs of hundreds of thousands of people up and down this country. It's one rule if you're in the cabinet it's another rule for everyone else."
Cameron told the Labour leader that the government had "to do more" but added: "We mustn't abandon the plan that has given us record low interest rates".
Miliband challenged the prime minister, saying that women's unemployment was at its highest level since 1988.
"Women's unemployment is at its highest level since 1988, the last time there was a Conservative government in power. I have to say Instead of apologising four months late ot my Right Honourable Friend [Angela Eagle] for saying "Calm down dear" he should be apologising to the women of this country for what he's doing to this economy", he said.
But a defiant Cameron claimed Labour had borrowed and spend too much.
"When you see those two sitting on the front bench…you wouldn't bring back Fred Goodwin to sort out the banks, why would you bring them back to sort out the economy."