X Factor: Judges Kelly Rowland, Tulisa Contostavlos Kickstart A Whole New Contest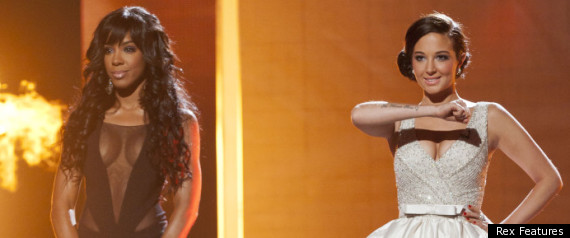 Never mind the singing competition, the war of X Factor moved to a different battlefield last night when two of the series' new judges Kelly Rowland and Tulisa Contostavlos brought out... the big guns? Sorry.
We're been used to seeing Cheryl Cole and Dannii Minogue jostle for position on the fashion pages, now Kelly and Tulisa have evidently decided to crank up the vroom-volume on their primetime outfits.
Kelly's dress was a slashed, black affair with only a sheer net covering her modesty up top, while Tulisa went cooky in a short, prom-style dress revealing flesh at both ends, with hair tucked into a jaunty side-bun.
Although Kelly's night as a judge was more successful - all three of her acts went through while Tulisa was left in tears after her band Nu-Vibe were given the boot - it seems, as far as the REAL contest is concerned, both ladies are only just beginning.
CLICK HERE FOR ALL THE LATEST RESULTS, NEWS, GOSSIP AND PICTURES ON OUR DEDICATED X FACTOR PAGE