Some Tents May Be Empty, Occupy Protesters Concede - But The Cause Is Not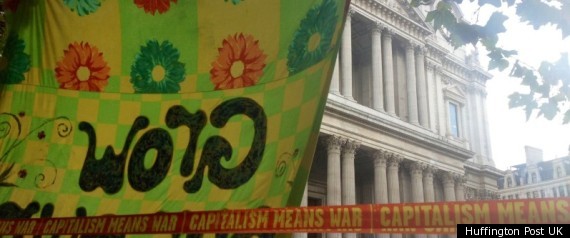 The revelation that many of the Occupy London Stock Exchange tents outside St Paul's were apparently empty overnight on Monday has led some to conclude that the protest is empty too.
Somebody should tell the protesters.
Outside the cathedral on Tuesday the #OccupyLSX faithful gathered in numbers as strong as ever to tackle allegations made by the Daily Telegraph in the only way they know how - by being there.
The newspaper sent a team of journalists armed with a thermal imaging camera to the protests in emulation of a similar operation by police. Today it reported that nine out of 10 of the tents were empty. According to the paper this reflects evidence collected by authorities which has not been made public. Many have since suggested the protests should be cleared, and the cathedral reopened.
"It is like a phantom camp – a big charade," the paper quoted Matthew Richardson, a Corporation of London councillor, as saying.
"It just shows that most of the people don't have the courage of their convictions and are here just to make trouble and leaving your tent here overnight is a good way to do that."
However the paper does admit that the empty tents have a use. Those left empty are given to new arrivals or day visitors.
The official OccupyLSX Twitter account said as much when it tweeted: "Modern tents are designed to keep heat in. Those brave enough to withstand the cold in Tescos Value jobs may be detectable."
Robin Smith, a 48-year-old former Conservative councillor for Wokingham Town Council, told the Press Association that around a quarter of the protesters leave at night and come back during the day.
"There are lots of normal middle-class people turning up and helping but they have to go back home and some people come once and go away," he said.
And as it quickly becomes clear talking to many of the Occupiers, the need to leave for brief periods is often as simple as needing a shower.
"People sometimes go home," said Guytis, one of the protesters who has been at St Paul's more or less since the beginning, though he admits going home for three showers and a change of clothes.
"People need to take showers, some people aren't from London and were here for more than a week but needed to clean their clothes, and they left for a day or two."
Guytis, who looked clean and sprightly for a man who has spent the best part of two weeks on the streets, did admit that some protesters may have tents at both St Paul's and Finsbury Square. He also agreed that could become a problem - but mainly because there are too many protesters for the space available, not too few.
"The mood is very good," he said. "When I came here I just wanted to have a look but since I've got really involved in it. Lots of people have done the same. There is such a good spirit and people are so supportive of the camp. People are coming from all walks of life and helping when they can."
For others at the St Paul's camp, the emptiness of some tents is a function of how the protest works - revolving shifts, young excited people staying up late and sleeping through the day, and others - to put it slightly obliquely - 'making friends' and sleeping over in another person's tent.
"It's a nocturnal town," said Ben, a protester visiting from the site of Occupy Nottingham who wore a top hat and olive-green coat for the occasion. "People here only come alive at night. It's like Dante's inferno but with better shoes."
In the end it might just be that trying to get dozens of anarchists and socialists to bed at the same time (on the off-chance a herd of reporters arrives demanding heat signals from under every canvas) is like herding cats - and then forcing each moggy to clean out their own litter tray.
"Not everybody is in their tents at all times of the day," said James, a protester who dressed himself in a leather jacket and deflated beanie hat. "It's not like somebody says right, 11 o'clock, lights out."
Perhaps our perceptions have been warped by the Iraq war protester Brian Haw, who slept in a tent outside the Houses of Parliament for almost 10 years before his death in June? Some protesters at the camp on Tuesday argued that it suited the agenda of some newspapers to assume that unless a protest is masochistically unhygienic it does't count.
Take Rashid Sharif, a protester who has been at the protest for more than a week but whose girlfriend does not share his political views. She is still at home, and Rashid pays her regular visits. And when he has to return to his full-time job at a local college, he will have to leave for good.
But his point, he says, remains as valid as if he stayed until he keeled over.
"I myself have gone home one night because I have a girlfriend, who is not here, and doesn't share my political views," he says. "But I don't think it makes any difference."
Of course there will always be the hardcore. Some protesters, including one calling herself Jayde, emphasised to the Huffington Post that the camp is built to stay. She herself been here since the beginning - and as far as she is concerned there is no end in sight.
"Believe me the problem is trying to fit people in the tents," she said. "But I'll live here for ever."