Rickets Rates Up 140% - Can Kellogg's Save The Day?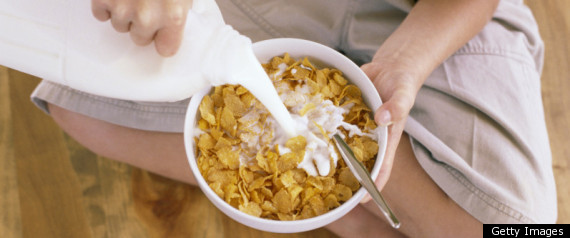 Cereal brand Kellogg's is planning to add vitamin D to all its children's breakfast cereals in a bid to help lower the alarming rise in rickets.
The creal brand's vitamin D move comes after it discovered that 82% of paediatric dieticians admit to seeing a rise in rickets among young children within the past five years.
The research by Kellogg's and Primary Care Trusts also found that the number of children diagnosed with rickets has increased by a staggering 140% between 2001 and 2009.
To add to this, health experts, such as consultant orthopadeic surgeon Professor Nicholas Clarke, from Southampton General Hospital, admit that 20% of children he sees have bone deficiencies.
Kellogg's added the 'sunshine vitamin' to its Corn Flakes, Ricicles and Mini Max cereals earlier this year but plan to make it a staple ingredient in all its children's cereals by the end of 2012. These include Rice Crispies and Frosties.
The cereal brand has previously been blasted for the high levels of sugar and salt present in popular cereals. They are hoping this latest move will help their breakfast cereals be seen as a healthier option for children.
However, eating cereal with vitamin D in isn't the only thing children need to boost their vitamin D intake. Experts believe parents should be encouraged to take further steps too.
"It is important children are encouraged to get some sun exposure without sunblock, more foods are fortified with vitamin D and supplementation is encouraged," Jacqui Lowdon from the British Dietric Association's Paediatric Group told the Daily Mail.
"Healthcare professionals would like to see the introduction of a recommended daily intake so we are clear on how much vitamin D children need to avoid these health issues," says Kellogg's European nutrition director, Alyson Greenhalgh-Ball.
More ways to boost your vitamin D levels...
Loading Slideshow
Portabello Mushrooms

Mushrooms have the capacity to produce vitamin D when they are exposed to sunlight. But because they are usually grown in the dark, not all mushrooms have the essential vitamin in them. Portabello mushrooms on the other hand, are grown under an ultra-violet light, which means they are rich in vitamin D.

Fish

Fatty fish, such as salmon, mackerel, tuna and sardines are a great source of vitamin D. They are packed with an antioxidant called astanxanin, which helps the body create a natural sunscreen. Great for protecting your skin from the sun, whilst also getting an adequate amount of sunshine.

Sunshine

A little bit of sunshine spurs the body to make more vitamin D. Due to risks of skin cancer, it's best to stick to a small amount each day with low, or little sunscreen to enable your body to fully absorb the rays.

Supplements

If you want a quick vitamin D fix, stock up on vitamins and supplements. These aren't to be used as a food replacement but they do help boost your vitamin D intake. Just be aware that there is such a thing as too much vitamin D, so make sure you read the label. Cod liver oil is also a great supplement to help increase the body's vitamin D levels.