'Strictly': Robbie Savage's Hip-Thrusting Causes Hundreds Of Complaints - Was It 'Inappropriate'?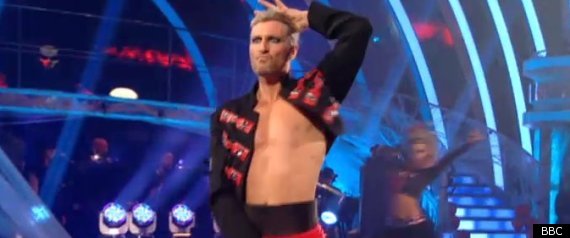 It was clear to see Robbie Savage had put a lot of effort into his Strictly Come Dancing routine on Saturday. There was cape-swirling, hip-thrusting and crotch-grabbing. He even jumped onto the judges' desk and got right in their faces.
However, the BBC have now received 267 complaints because of his raunchy paso doble, with some angry viewers claiming his dance moves were "inappropriate".
Savage performed to Michael Jackson's Bad - and you can't expect a dance to MJ's famous crotch-grabbing song not to involve his trademark move, can you?
Yes you can, according to disgruntled viewers on the BBC's online message-boards. One wrote: "We thought that the use of 'hip-thrusts' by Robbie Savage during his performance tonight was particularly vulgar, deplorable and completely unnecessary.
"They were particularly suggestive especially to the younger audience and the action in front of Craig was very much out of order.
"It is not necessary for him to hold his crotch in that way to give a good performance. We hope that this will not be repeated in future. The only judge that appeared to appreciate it was Alesha - the others showed disapproval, much to their credit."
The BBC have responded by saying: "Robbie danced a paso doble to Michael Jackson's Bad on Saturday's show and the choreography emulated some of Michael's most famous dance moves.
"Strictly is a live entertainment show and, with it being the Halloween Special, Robbie wanted to pull out all the stops. We would like to assure viewers no offence was intended."
A peak audience of 11.5m people watched the show on Saturday, with 267 complaints. Is hip-thrusting before the 9pm watershed actually something that needs to be addressed?
WATCH: This video of Savage's paso doble and let us know if you thought it was 'inappropriate'...