'Secondary School Memories' Hit Twitter. We Look At Some Of The Best (And Worst)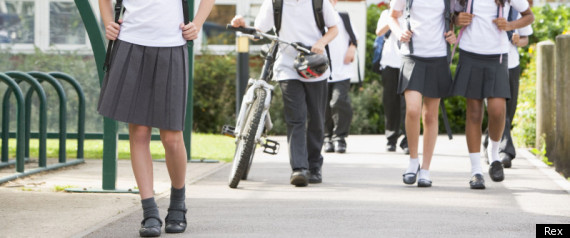 Secondary school provides many with some of their best, worst, funniest and most embarrassing times of life.
Everyone has a horror story of when a chemistry experiment went wrong or the person they fancied kissed someone else. And most will have a tale or two about the ridiculous excuses they used to get out of homework.
So with #secondaryschoolmemories trending on Twitter, we decided to take a look at some of the more memorable moments of school:
@Isabel_HB: "Setting the fire alarms off to get out of lessons."
@benduggan: "Crafty fags behind the bike shed (an actual bike shed), my Science teacher's red underwear, geography field trip, Shakespeare."
@GrandadjFreeman: "Feeling like God when you found a games website that wasn't blocked."
@Sir_Scribbles: "Marvelling at the wonders of a flip phone with a coloured screen..& a camera!! "Surely technology has peaked! we thought."
@GrantEvans1992: "Knowing the dinner lady and getting everything for 50p."
@youkneecorny: "TEACHER IS COMING!!! *class becomes an utter chaos* the second teacher walks in, the class becomes dead quiet."
@Folusho_OG: "When you used to plan to sit beside the smartest people in class during tests."
@Jo_AlerionWish: "Pokemon."
And here's what our Huffington Post UK team had to add:
Luke McGee, assistant blogs editor: "My friends used to call me 'fatty queer cakes' as I had the physique of an emperor penguin."
Sarah Dean, assistant entertainment editor: "My head-teacher was the http://www.dailymail.co.uk/news/article-1202847/Staff-mutiny-school-run-head-lover.html 'best-paid litter picker in Britain', who also turned out to be having an affair with the deputy-head who was dubbed 'the dwarf'."
Paul Vale, deputy news editor: "Pulling a handstand on top of Stiles' Wolf Mobile."
Felicity Morse, intern, said: "When I first started school I had to eat my lunch on the toilet as I didn't know anyone. That is, until the toilet cleaner kicked me out as apparently we weren't allowed to do that."
Jody Thompson, blogs editor: "My best memory was going on the game show Blockbusters and asking 'for an E, please Bob'."
Another staff member, who (understandably) wishes to remain anonymous, said: "I was in Year 10 and one day found myself wearing a pair of pants that had lost all their elastic. I put a sanitary towel on but it fell off as I was leaving the classroom. I saw it poking accusingly out of the trouser leg but there were children storming in and out so I had to remain like a statue in order to retrieve the offending soiled thing before anyone discovered it. I crouched down and had to stash it in my bag. Luckily I don't think anyone saw."
What's your one school memory you'll never forget?