Red Arrows Pilot Named As Death Leads RAF To Halt All But Essential Flying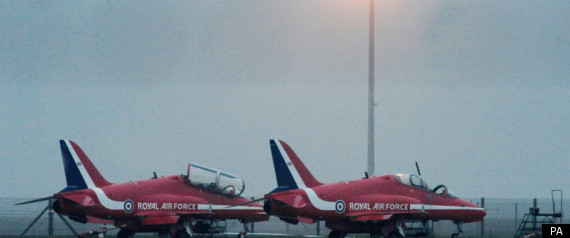 The Red Arrows pilot who was killed after being ejected from his aircraft while on the ground has been named by the Ministry of Defence as Flight Lieutenant Sean Cunningham.
The pilot was killed after being ejected from his Hawk T1 while on the ground at RAF Scampton in Lincolnshire on Tuesday morning.
The RAF has suspended all non-essential flying on aircraft with ejector seats of the type linked to the death.
A Ministry of Defence spokesman said: "Pending further investigation and purely as a precautionary measure, all non-essential Royal Air Force flying on aircraft fitted with a similar ejector seat to the Hawk T1 has been temporarily suspended. The safety of our crews remains our paramount concern."
The suspension affects RAF aircraft fitted with Martin Baker Mk 10 ejection seats, which are the Tornado GR4, the Tucano and the Hawk.