Justin Bieber's Paternity Suit Dropped By Fan Who Claimed 30-Second Sexual Encounter With Star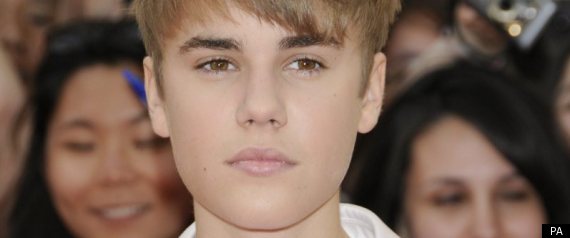 Justin Bieber's week just got a whole lot better with news that the paternity suit brought against him by a fan has been dropped, according to TMZ.com
The 17-year-old superstar had agreed to take a paternity suit, following Mariah Yeater's claims that she had become pregnant following a brief encounter - 30 seconds to be precise - with him after a concert at the Staples Center in Los Angeles.
However, his lawyers always called the claims "fabricated and vindictive".
TMZ.com report that lawyers acting for the 20-year-old woman have withdrawn the lawsuit, which demanded the star take a DNA test, and pay monthly maintenance for her four-month-old son.
Bieber made it clear it was business as usual following the initial suit, appearing at the MTV EMA Awards in Belfast last week, turning on the Christmas lights in West London and escorting his girlfriend Selena Gomez on a romantic tour of Paris.
But, his good humour apparently deserted him in London yesterday, where he was caught giving paparazzi a defiant finger-gesture as he left a Knightsbridge restaurant.
Here is our Slideshow of the superstar whose wholesome image has been quickly restored...

Loading Slideshow
Musicians Usher, left, and Justin Bieber arrive at the 22nd Annual Kids' Choice Awards on Saturday, March 28, 2009, in Los Angeles. (AP Photo/Chris Pizzello)

Musicians Usher, left, and Justin Bieber arrive at the 22nd Annual Kids' Choice Awards on Saturday, March 28, 2009, in Los Angeles. (AP Photo/Chris Pizzello)

Justin Bieber performs at the Pepsi Superbowl Fan Jam Concert in Miami Beach, Florida.

Teen pop sensation Justin Bieber performs with Drake at the Juno Awards Sunday, April 18, 2009

Canadian singer Justin Bieber performs live in concert during the NRJ showcase on the 1st floor of the Eilffel Tower in Paris, France

Paris Jackson and Justin Bieber during a ceremony honoring the late Michael Jackson with Hand and Footprints in Cement, held at Grauman's Chinese Theatre, on January 26, 2012, in Los Angeles.

Canadian singer Justin Bieber performs live during a showcase at the Universale Headquaters in Paris, France.

Justin Bieber arrives at the Grammy Awards on Sunday, Jan. 31, 2010, in Los Angeles. (AP Photo/Chris Pizzello)

Justin Bieber poses for photographs before a personal appearance at HMV in Westfield, west London. Over 1,500 fans turned up to try and meet the singer.

Justin Bieber performs live on stage at the Hard Rock Cafe in Las Vegas.

Canadian singer-songwriter Justin Bieber visits LIVE@Much in Toronto on Monday, Oct. 5, 2009. The Canadian Press Images/Christian Lapid

Justin Bieber and his girlfriend Selena Gomez

Justin Bieber with one of his idols, Sean Kingston

Justin Bieber with one of his many lady-friends, Kim Kardashian

Bieber fever

Justin Bieber

Justin Bieber

Justin Bieber

Justin Bieber

Justin Bieber

Justin Bieber

Justin Bieber

Justin Bieber

Justin Bieber

Justin Bieber

Justin Bieber

Justin Bieber

L-R: Smokey Robinson, Prince Michael Jackson Jr., Prince Michael Jackson II aka Blanket, Paris Jackson and Justin Bieber during the Michael Jackson Hand and Footprint Ceremony with the children of Michael Jackson making the impressions using shoes and sequined glove once worn by Michael Jackson, held at Grauman's Chinese Theater in Hollywood, California on January 26, 2012.

Canadian singer Justin Bieber arrives at the Cannes festival palace, to take part in the NRJ Music awards ceremony, in Cannes, southeastern France, Saturday, Jan. 28, 2012. (AP Photo/Lionel Cironneau)