The Great Train Robbery, Thailand And Protesters: Pictures Of The Day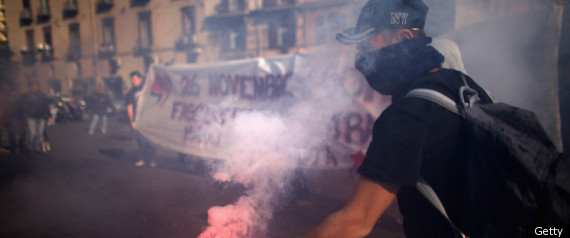 As Occupy protesters in Wall Street hit the headlines once again, protesters in Italy took to the streets in Naples railing against austerity cuts and the lack of jobs available for young people.
However managers in London received a hand as CMI Shadowmen from the Chartered Institute of Management dressed in fuchsia pink bodysuit to promote the move. These commuters seemed bemused.
Ronnie Biggs, the 82-year-old criminal involved in the Great Train Robbery posed for the media at the launch of his autobiography which reveals his struggles with ailing health in the later part of his life.
Elsewhere model Jerry Hall luxuriated atop an elevated sofa as part of a fundraising event.
Other pictures show New Zealand and Thailand struggling to cope with disasters, with water pumping out of Thailand's ancient capital Ayutthaya after floods that continue to cause chaos in the capital city. Salvors remove shipping containers from Rena ship attempting to combat the oil spill that caused 350 tonnes of oil to flood into the sea.