One In Four Wrongly Believe Rock Salt Is Healthier Than Table Salt, Says Study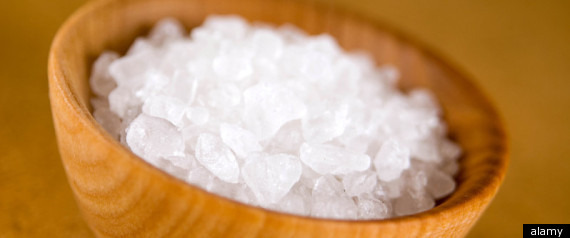 A quarter of people are under the misapprehension that luxury-brand rock and sea salts are better for you than the traditional table variety.
Researchers analysed the chemical content of several gourmet brands and compared them with regular table salt.
The report, for Which? and Consensus Action on Salt And Health, found no difference in chemical content between the regular salt and gourmet brands, despite claims that they are "natural" and "contain minerals".
All varieties were found to contain almost 100% sodium chloride, making them equally damaging to health in large quantities.
The report condemns celebrity chefs for encouraging people to sprinkle sea salt on food as you can get all the salt you need from a balanced diet.
Professor Graham MacGregor of the Wolfson Institute of Preventive Medicine and chairman of Consensus Action on Salt and Health (CASH) told the BBC:
"The most important message is that you don't need to add a chemical [sodium chloride] to your food.
"Food without salt tastes much better. There's quite enough already present in fruit, vegetables, meat and fish."
The survey of 1,358 members of Which? found that around a third admitted to thinking that rock and sea salts were healthier than table salt.
Which? chief policy adviser Sue Davies said: "Many of us are trying to reduce the amount of salt in our diet, but our research shows that people are needlessly spending more money on 'premium' salt as they often believe it's healthier than traditional table salt.
"Given that most of the salt we eat is already in the food we buy, the cheapest - and healthiest - option would be to stop adding extra salt to food altogether.
"Which? is calling on food manufacturers to reduce the amount of salt in their foods, and we'll be monitoring their progress over the coming months."
Food manufacturers have disputed the report, saying that it doesn't give the full picture. David Lea-Wilson, co-owner of the Anglesey Sea Salt Company, which makes Halen Mon Pure White Sea Salt, told the BBC:
"This report is not giving a full picture by not going into the other things in either sea salt of the additives in table salt."
Dr Jacquie Lavin, Head of Nutrition and Research at Slimming World told Huffington Post: "Around three quarters of our salt intake comes from processed food, as salt is used to add flavour and as a preservative.
Following healthy eating that encourages you to cook from scratch helps you stay in control of how much salt you are eating as you can choose how much you use. You can also experiment with other herbs and spices to find other ways of adding flavour to your food so that you don't rely too heavily on salt."
To find out more about the hidden salt, sugar and fat content lurking in your daily diet, read on...
Loading Slideshow
Hidden Fat Traps Lurking In Your Food

Dried Fruits

Dried fruits are a great tasting snack, but beware they are often sprayed with a sugar solution before being packaged.

Sushi

Sushi can come packed with mayonnaise (or mayo based sauces) as well as other sauces full of hidden calories.

Fruit Smoothies

Not all smoothies have potential fat traps - ones made entirely from wholefood ingredients and fresh fruit, are packed with nutrients and vitamins. However, don't be fooled into thinking that all smoothies make a healthy drink. Many processed smoothies are so full of added sugars, syrup, additives and full-fat milk (and sometimes ice cream), that you'd be better off having a large milkshake from your local takeaway.

Vegetable Crisps

It may seem like the healthier alternative to a packet of salt and vinegar crisps, but veggie crisps have the same fat content as ordinary crisps.

Frozen Yoghurt

Frozen yoghurt is usually low in calories - but the sugar content can be sky high.

Chicken Wraps

A tortilla wrap may contain carbohydrate than a slice of bread, but most pre-packed wraps are packed full of hidden fat traps, such as processed meat, mayonnaise and butter.

Processed Cereal

Many cereals contain a host of different sweeteners to make them more tasty, so make sure you check the sugar content before piling it into your breakfast bowl.

Low Fat Muffins

Choosing a low-fat muffin over a full fut version may seem like a clever move, but in reality, the snack can contain more sugar. This means that not only could your 'healthier' muffin contain more calories, it may be less filling too.

Gluten-Free

Gluten-free aren't necessarily more healthy. Many gluten-free foods are processed and packaged, meaning they still have the fat traps other foods have.

Rice Cakes

Rice cakes can be a low calorie snack - as long as you stick to plain and don't pile on the toppings.