Occupy Bristol: Protesters Prepare For Winter With Amazon Christmas Wish List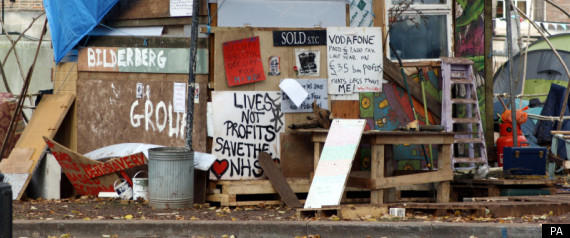 The global Occupy protest against the banking system has been criticised recently for not having a specific-enough set of demands.
The Bristol branch of the protest camping on College Green near to the city's cathedral appear to have taken this to heart.
Their response? They've set up an Amazon wish list.
And while their list is more of a Christmas list of camping equipment, books and DIY tools than a cohesive programme of financial reform, the protesters have defended the move saying it was just a way for people to support the movement.
Some of the items indicate that the protesters are preparing for a long, hard winter.
They include fleece blankets (£25.82), pairs of waterproof socks (£26.28) and 10 "winter warm" sleeping bags (£43.95).
Some of the asked-for gifts appear to point to an even longer timespan. One of the requested items is a 1kg bag of sunflower seeds. The demonstrators have said the seeds will not be planted on College Green and insist they will clean up after themselves when they leave.
A thermal power generator is one of the costlier items on the list at $419.99. Other practical requests comprise a universal power charger (£8.55), wireless modems (£79.00), 10 rolls of Gaffa-brand tape, a 30-watt solar panel (£60) and a caravan battery (£110).
And just in case any of the protesters need while away the winter evenings with some research on why they are there in the first place, the list also includes the book All You Need To Know About The City by Christopher Stoakes (£11.17, currently out of print).
One protester told the local Bristol Evening Post that the camp had the support of locals.
He said: "We have had a massive response from the public.
"We have had donations of all sorts – food, money, building materials and now we are hoping to have some more on-site support in the evenings and nights from union members.
"It is quite tiring when you are doing 22-hour days, and this will help us get the chance to put our heads down. We don't do too badly."