Veena Malik: Pakistani Actress Sues FHM India Over 'Doctored' Picture After Religious Backlash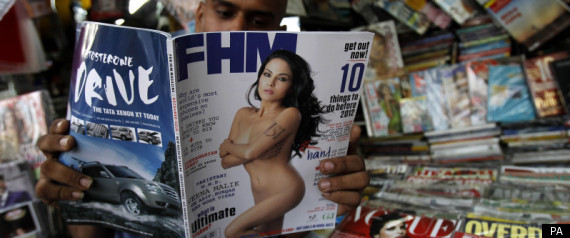 The December edition of FHM India has sparked controversy amongst nuclear rivals after a Pakistani actress posed topless on the cover with the letters ISI stenciled on her arm.
ISI stands for Inter-Services Intelligence, Pakistan's notorious covert security service.
Veena Malik, the actress and model at the centre of the storm, admits to posing topless, covering her breast with her hands.
However, she has accused the magazine of doctoring the photos to make her appear completely nude. She is now suing the publisher of the magazine for $2m, while the Pakistani government has ordered an investigation into whether the pictures have been changed.
"I agreed to a photo shoot and having an ISI tattoo in a humorous way but I did not have any nude photos. My pictures have been morphed," she told a Pakistani reporter.
In Malik's fiercely conservative homeland, Islamic clerics have already denounced the picture, while the military rivalry between the two nations has only served to escalate the furore.
Rehman Malik, the interior minister of Pakistan, suggested the government may pursue the matter legally.
However, Kabeer Sharma, the editor of the magazine, remains steadfast that they did not doctor the image.
"Maybe she is facing some kind of backlash, so maybe that's why she is denying it. We have not photo shopped or faked the cover. This is what she looks like, she has an amazing body," he said.
The 33-year-old actress is best known in her homeland for her turn in the Pakistani version of the reality TV show Big Brother.
Earlier this year, she got an on-air argument with a Muslim cleric, who called her an insult to the religion for befriending an Indian actor on the show.