Winter Weather: Drivers Warned Of Deadly Ice On Roads (PICTURES)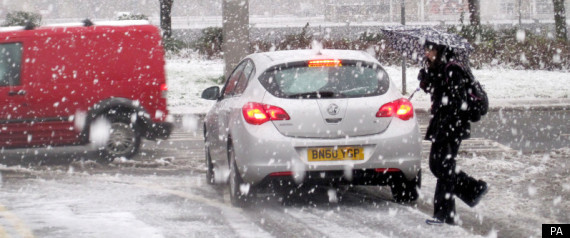 Drivers have been warned to take precautions against icy conditions on the roads as the first cold snap of the winter continues.
The chilly weather on Monday brought disruption to roads across Scotland and forced some schools to close after heavy overnight snowfall hit the Highlands, Lanarkshire, Central Scotland, Dumfries and Galloway and Aberdeenshire.
Freezing conditions overnight brought more problems to Scotland's roads. Snow and ice resulted in treacherous driving conditions and pedestrians faced black ice on pavements after temperatures dipped below freezing.
There was also snow across the north of England, believed to have led to the death of a lorry driver on the A160 in north Lincolnshire who lost control of his vehicle at about 4.14am.
Wintry conditions have been forecast to affect the same areas of the country on Tuesday, bringing with them the likelihood of icy conditions on the road.
The Met Office has issued severe weather alerts for all parts of Scotland, Yorkshire and Humber, the West and East Midlands, the North West and the North East of England, and Northern Ireland, warning that icy stretches were likely to develop on untreated surfaces where wintry showers had fallen.
The Scottish Government said 120 gritters had been out on motorways and trunk roads overnight.
Billy Payne, a forecaster with MeteoGroup, the weather forecasting division of the Press Association, said: "The snow will ease off later this morning with longer spells of rain, but that will turn back into snow. Cold air temperatures, which will be below zero reaching around minus three and minus four degrees, means that ice is also a risk. There will be significant accumulations of snow over higher ground and the rest of the week will continue to be quite unsettled with wintry showers of hail, sleet and more snow."
The Met Office has issued severe weather warnings for all parts of the country, with the heaviest snow forecast in the north and north-west regions.