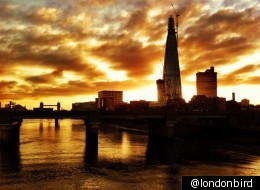 You can of course use mobile phones to make calls and send texts, if you must.
These days though, Instagram and the iPhone 4S camera have turned your mobile into a truly viable camera alternative.
Annie Leibowitz recently called the iPhone's camera "the snapshot camera of today".
She described it as accessible, easy and the modern version of the "wallet with the family pictures in it".
Essentially a visual Facebook status update, but with gorgeous filters, Instagram, is the ideal bragging tool for professional photographers and amateurs alike.
The newest version also means you can print your pictures with no loss of quality, since the resolution is now 1,936pixels x 1,936pixels.
There are loads of options for printing Instagram snaps on Printstagram and Postagram. Canvaspop allows you to print your best shots straight to wall-mountable canvas,
Instagram is still free, though not available on Android, yet. Though it is coming, according to the Telegraph.
The Instagram community is growing steadily, and now has 14 million users. You need no qualifications to join. Just a willingness to snap and share.
Take a look at some of our favourite Instagram snaps below:
The Art of Instagram & iPhonography
Taken by Louise Montague AKA @londonbird using iPhone 4. A great capture of The Shard dramatically casting a shadow in the fog bank lifting at 8am on a Sunday morning . 687 Followers, Member of London Igers Community

Taken by Tuana Aziz AKA @tuana. Amazing story of a young guy from Iraq, who now lives in Sweden and found a passion for photography by chance. In 2007, he bought his first iPhone and immediately in love with the idea of ​​having a camera phone with him everywhere. 4,846 Followers and member of Instagramers

Taken by @Widolvan using iPhone 4, first filtered using Atlantic Beach filter of FX Photo Studio application and then processed via Instagram Amaro filter. 1,985 Followers

Taken and edited by Erwin Suryadharma AKA @ersur an Interior designer from Singapore, who snaps anything interesting that catches his eye. 10,403 Followers and member of IPhonesia (Indonesia)

Image taken by Karen McAllister using iPod 4 processed via Hipstamatic's John S Lens and Kodot Grizzled film effect

Anthony Danielle AKA @takinyerphoto is 24 years old music publisher from New York. He is a top followed street photographer on Instagram and winner of one of it's first competitions. 78.000 Followers and member of Instagramers

Taken by Clare Anderson using iPhone 4 via Instagram Walden filter in Richmond Park

Taken by Mark de Wolf AKAK @darkmewolf on iPhone 4 who favours Snapseed, PS Express, Pixlromatic and Camera+ applications 2,184 Followers, a half Swiss Canuck former Journalist wandering around London & Luzern

Taken by Melanie de Krassel AKAK @mdek in Los Angeles using iPhone 4, Camera+, X-Pro filter and Tilt Shift effect. 5,564 Follwers

Taken by Anna Lu AKA @annalu268 at sunset in Taipei, Taiwan using iPhone 4 with Camera+ application on sunset mode. 793 Followers

Taken by Louise Montague AKAK @londonbird using iPhone 4, an experiment with fish eye lens for Photojojo (USA) adding clarity in Camera+ and a little HDR. Great fun! 687 Followers and member of London Igers Community

Koci Hernandez, Jounalist, USA, 56.000 followers. http://instagramers.com/destacados/focuson-instagramers-1-25-koci/

Minimalist skies, sunsets, landscapes, Japan. 3.800 followers. Minbio: http://instagramers.com/destacados/focuson-instagramers-1-11-polagrapher/

4,000 followers, Landscapes and streets of Norway http://instagramers.com/destacados/focuson-instagramers-1-9-ria/

Taken by Debs Coady in Venice looking on to the Grand Canal not far from the Rialto Bridge, using Picfx app with Grit & Light Leak filters. 1,498 Followers and member of Instagramers (London)

Taken by iPhonehipsta using a secret blend of filters and applications to produce this amazing photographic effect of the London skyline 670 Followers and shooting from the hip

Taken by Jedana Angela C. Orosa a Fashion Desisgner & make-up Artist on 15 October 15 2011 in Quezon City, Philippines using iPhone 4 and Lomo-fi filter 144 Followers

Taken by Dimitris Karathanos, a journalist fron Greece. "I'm very fond of this shot. It conveys an atmosphere of mystery which the greatest part of my work sadly lacks" he says. "I love books. Never been much of a visual person, always preferred printed words instead. Ever since I was introduced to iPhoneography, those two things have combined and now I got a mind like a comic book!: 11,000 followers and member of Instagramers

Thomas Kakareko is 25 years old and hails from Berlin, Germany. Thomas would have never thought that photography could become that important in his life before Instagram. "I never leave the house without my iPhone and I'm always ready to shoot" 32.000 followers and member of Instagramers

France: 8.800 followers. : http://instagramers.com/destacados/focuson-instagramers-1-24-nathparis/

Turkey: 11.000 followers. HDR style, colorful, streets of Istanbul. http://instagramers.com/destacados/focuson-instagramers-1-18-civilking/

Phillipe Gonzalez is the founder of Instagramers.com and Igers Network, who dedicating most (if not all) his free time on developing the network, organising contests and helping people with tutorials. Travels, Art and Photography is a true passion and has even developed a successful iPhone Apps called Canal Cocina. 7.900 Followers.
Lead image Shard at Sunrise, @londonbird.