Hurricane Storms Could Cost Scotland £100m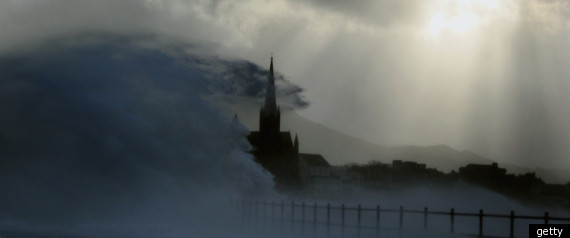 The single day of hurricane-force winds that battered Scotland could cost the country's economy around £100 million, business experts have warned.
Early closures, blocked roads, power outages and employees staying at home caused a drop in both revenue and productivity.
Analysts from professional services firm PricewaterhouseCoopers (PwC) said the lost revenue caused by winter weather could push already struggling businesses over the edge.
Meanwhile, tens of thousands of properties are still without electricity, with the possibility that some homes could have no power until Sunday.
Scottish Hydro said 70,000 customers were cut off on Friday morning, down from 105,000 on Thursday night, while Scottish Power had 2,000 customers "off-grid".
There were 400 separate incidents disrupting the electricity network in the north of Scotland, including the western and northern islands, equivalent to two months' work in just one day, Scottish Hydro said.
PwC said pub, restaurant and hotel owners, retailers and hauliers were particularly hard-hit by the storms.
The £100 million figure is based on previous research which suggests that, for every day the UK grinds to a halt, the economic loss is £1 billion a day, the equivalent of around £100 million in Scotland.
PwC's head of private business in Scotland, Caroline Roxburgh, said: "In the past, harsh winters tended to impact on manufacturers but were compensated for elsewhere in the economy. Historic data also suggests that even in extreme weather, much of the productivity lost is actually made up fairly soon after.
"For some Scottish businesses however, the losses they experience will be permanent. If someone has cancelled a restaurant booking or not gone to the theatre or the cinema then that money will be lost."