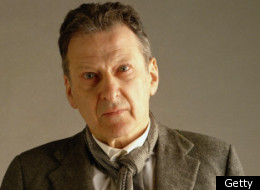 A blockbuster art exhibition? Turner Prize nominees that people actually liked? A masterpiece ruined by a cleaner? It can only be the biggest art stories of 2011...
From Banksy at the Oscars to the sad death of Lucian Freud, 2011 was a huge year for visual art. Here's we've assembled out biggest stories from the past 12 months.
But which was the biggest event of them all? What have we missed off? And how will you remember art in 2011?
Let us know in the comments below...
2011's Biggest Art Stories
It was the moment that UK art's great counterculture enigma was ushered into the world of mainstream glitz and glamour. Banksy - whose stencilled street art have made him a household name - was nominated for an Oscar for his documentary Exit Through the Gift Shop. In truth, Banksy had long since transcended the underground - how many graffiti artists sell work to Brad Pitt and Angelina Jolie? - but nevertheless, there was something tantalising about the thought of the man who keeps his identity a secret attending the world's most ostentatious celebrity get together. In the end, we'll never know how Banksy was planning to handle the spotlight because he didn't win. Would he have taken to the podium in disguise? A statement he released before the ceremony suggests he might have: "I don't agree with the concept of award ceremonies, but I'm prepared to make an exception for the ones I'm nominated for. The last time there was a naked man covered in gold paint in my house, it was me."

In April artist Ai Weiwei was imprisoned and held for 81 days as part of the Chinese government's crackdown on activists and dissidents. The outspoken critic of China's human rights record quickly became a symbolic figure and attracted support from around the world. When he was issued with a tax bill of over £1 million, 30,000 people sent money, some hidden in paper aeroplanes that they threw over the wall of his compound. Despite his release, the ongoing battle between Mr Ai and his government has made news across the world where he is generally seen as the victim of an oppressive political regime. During his incarceration London's Tate Modern gallery waded into the debate, displaying the words 'RELEASE AI WEIWEI' on their exterior in a statement of solidarity with the man whose 'Sunflower Seeds' they exhibited in 2010.

It was the most talked-about art show of the year - if not the century - and with good reason. London's National Gallery managed to gather almost all of the major works completed by Leonardo da Vinci during his fruitful period working in Milan, meaning visitors could see Portrait of Cecilia Gallerani, The Musician, La belle ferronnière and both versions of The Virgin of the Rocks in the same place. Tickets sold for hundreds of pounds, people queued from dawn and critics - including us - were delighted.

At the start of the year internet behemoth Google launched a project that had the potential to wrestle fine art from the clutches of the elite and finally distribute the world's masterpieces democratically across the world - well, anywhere in the world that has a computer, anyway. Using similar technology to 'Street View', Google Art Project recreates 17 of the world's heavyweight galleries - including the National Gallery in London, the Met in New York and the Hermitage in St Petersburg (pictured) - to enable users to go on a virtual tour and examine certain pieces in intricate detail. Like Street View, navigating the gallery maps can sometimes be a frustrating experience and the overall user experience leaves plenty to be desired. But there is no denying the fact that a student sat in North Africa now being able to study Holbein's Ambassadors as closely as anyone holidaying in London is a powerful and welcome development in the way art is distributed across the world.

What a year 2011 has been for Tracey Emin. The artist who rose to notoriety in Britain in the late 90s - largely by almost winning the Turner prize with an unmade bed - not only met the Queen in her home town of Margate ('I told her about my misspent youth' Emin said of her Majesty - not the other way around) but in May exhibited her largest ever solo collection at the Hayward. Love Is What You Want was a retrospective that encompassed every facet of Emin's work, from the embroidered textiles of her early career (including the less than quaint 'You Cruel Heartless Bitch Rot in Hell') to later paintings of herself depicted as (only) a pair of spread legs. Even many of Emin's ardent critics deemed Love Is What You Want a success, a collection that took her flair for self-exposure, confession and (occasionally) self-parody and put it all together into a welcome autobiography of one of Britain's few 'art superstars'. Lets hope next year's Damien Hirst retrospective proves similarly illuminating.

In July 2011 the British art world lost perhaps its greatest living talent when Lucian Freud died at his home in London. The 88-year-old grandson of Sigmund Freud was famous for his vivid, often unsettling nude portraits, such as the large woman in Benefits Supervisor Sleeping which sold in 2008 for 17m - a record for the work of a living artist.

A painting selling for £7,250 is no great surprise - until you consider that the artist responsible never actually existed. Nat Tate - "an abstract expressionist who destroyed '99%' of his work and leapt to his death from the Staten Island ferry" - was devised as a hoax by novelist William Boyd in 1998 to trick the New York art crowd. He produced a biography of the made-up artist and launched it on the eve of April Fool's Day with the help of David Bowie. The joke worked - briefly - as everyone at the event allegedly claimed to have 'heard of' the artist, even though Nat Tate was discredited soon afterwards. Fast-forward to November 2011 and Bridge No 114 - one of the pieces Boyd created to support his story - sold at Sothebys to an anonymous bidder. Whoever it was clearly either still believed Nat Tate was real or more likely had a good (if expensive) sense of humour. Boyd described the experience as 'surreal' and added that he "half-expected Nat Tate to stride into the room and elbow me aside."

For fans of modern art, it was a minor tragedy. For critics it was simply one of the funniest stories of the year, even if they'd never admit it. In November 2011, a well-meaning cleaner in Germany came across Martin Kippenberger's sculpture When It Starts Dripping From the Ceiling and promptly scrubbed it down to within a fraction of its £690,000 value - believing it be an eyesore. Kippenberger was revered as one of the greats of his generation until his death in 1997. It is perhaps a small mercy that he wasn't around to witness the fate of his wooden tower while it was on loan to the Ostwall Museum in Dortmund - or more specifically, the trough he set beneath it. A spokeswoman for the Ostwall explained that the female cleaner had "removed the patina from the four walls of the trough" before confirming that that "it is now impossible to return it to its original state."

In terms of controversy, this year's Turner Prize barely registered which is precisely why it was such a good year for Britain's most famous art award. All four of the nominated artists entered strong work, from George Shaw's eerie, empty urban landscapes to Karla Black's vivid sculpture (partly made with bath bombs and toothpaste) and Hilary Lloyd's fragmented video collage. Eventual winner Martin Boyce created a homage to modernist design that pleased art critics, if not all of the visiting crowds. Aside from a solid showing of work, it was also the first time the Turner was held outside of London. The Baltic gallery in Gateshead was an inspired choice that attracted over 100,000 visitors - more than double the same figure from 2010 (and counting).

In October 2011, explorers in South Africa discovered an artist's workshop they estimated to be 100,000 years old. Contained within was evidence of the tools and methods employed by our earliest ancestors to create paint, possibly to use in skin decorations and rituals, including abalone shells used to store paint and animal bones used to mix the powders. Christopher Henshilwood of the University of the Witwatersrand (Johannesburg) and his team also found evidence that the ancient artists had used quartzite stones to grind ochre into a powder, which they then mixed together, probably with urine. How did all of this survive? Because after the cave was abandoned it was filled with wind-blown sand, which Henshilwood said 'sealed it like time capsule' - something that seems more than worthy of a modern day installation itself.