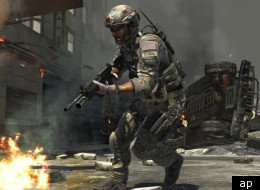 Call of Duty has launched modern warfare on sales records, blowing the previous blockbusters out of the water and reaching $1 billion (£640 million) sales one day sooner than blockbuster films Avatar and Harry Potter, according to The Guardian.
The billion dollar game took sixteen days to make the enormous sum, following its November 8 2011 launch. Forbes reports that the game made its first $775 million in five days, has drawn down 7 million hours from players and broken the Xbox Live concurrent player record with 3.3 million playing the game online at once.
USA Today points out that the Call of Duty: Modern Warfare Three's predecessor Call of Duty: Black Ops did not reach the milestone until late December 2010.
The game broke another record in its first 24 hours, taking $400 million to set a new entertainment launch record.
Activision Blizzard CEO Bobby Kotick told Computer And Video Games: "Engagement of our Call of Duty audience continues to rise around the world.
"Call of Duty as an entertainment franchise has made an indelible mark on popular culture and its broad and continued success is further validation that audiences increasingly value interactive experiences over passive experiences."