Last FM Discover Launches New Independent Artists App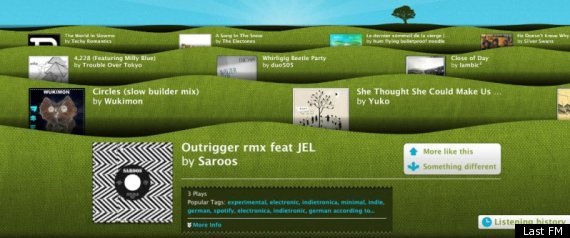 Independent music is now easier to find, as Last.fm Discover, the new emerging artists music app launches on the Last.fm website.
2 million niche genres are available on the new site, incorporating the kind of sounds you can't find on mainstream sites that stream or sell the major labels.
3 million tracks are available for free in the news library, from newgrass to "indietronica" with no commercial interruption.
Matthew Hawn, Vice President of Product at Last.fm told Huffington Post: "Discover has the stuff you won't find on Spotify. You won't hear Lady Gaga on Discover, but you might find the Venezuelan Lady Gaga. One quarter of the catalogue is unsigned new artists, and there are one million downloadable tracks."
Hawn says Discover is targeted at adventurous Last.fm listeners, and that bands involved don't mind giving away tracks for free.
"Discover is about emerging bands who have a problem with obscurity, not with piracy, so there are plenty of free tracks," says Hawn.
For tech heads, HTML 5 and the London design studio Somethin' Else were key to developing the site. HTML 5 gives the site the feel of an app, rather than a traditional website, while Somethin' Else's design delivers a visual experience akin to picking records out of rolling meadows in spring.