Mission Impossible 4 Red Carpet: Tom Cruise, Jeremy Clarkson And Richard Hammond Pose (PHOTOS)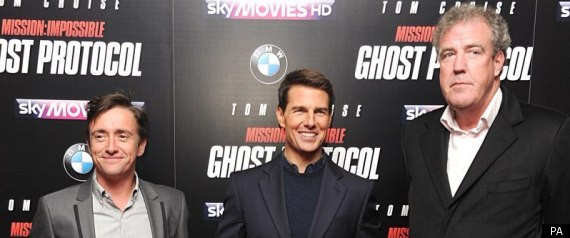 Tom Cruise put aside any issues he may have with his height and stood proudly next to Top Gear's mismatched duo Richard Hammond and Jeremy Clarkson last night.
At 5ft 7.75-inch tall, it's unusual for Cruise to find a male celebrity shorter than him, but Hammond seemed more than happy to fill that role.
The men, who all share a passion for speed, posed happily for the cameras at the premiere of Mission Impossible: Ghost Protocol in London.
Cruise, who is also the film's producer, promised the fourth in the franchise does not mark the end of his action career.
Speaking on the red carpet at London's IMAX cinema, the pint-sized actor claimed he had no intention of slowing down. "I'm just going to keep going, as long as I can do it. I love making action movies," he told the Press Association.
The 49-year-old braved freezing temperatures to spend around two hours on the red carpet chatting to fans.
As with previous installments, the blockbuster features a host of jaw-dropping stunts likely to please fans of the action movie series.
SLIDESHOW: See the best pictures from the red carpet here...