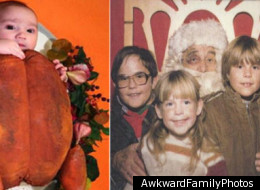 The festive period is a great time to capture classic photos of your loved ones - and cringe-worthy snaps.
The creators behind AwkwardFamilyPhotos.com have collated a hilarious library of deeply embarrassing photos of families around the world as they pose for pictures that probably seemed like a good idea at the time...
Inspired by their own awkward family portraits, Mike Bender and Dough Chernack now have a cult following, not to mention an impressive collection of photos featuring families dressed as human-sized presents, a mother in PVC Santa suit and a baby dressed as a Christmas turkey.
Take a look at our pick of the best awkward family snaps and remember to think before posing for that snap this Christmas, because photographs last a lifetime - as these people are learning the hard way...
All image by AwkwardFamilyPhotos.
The baby was not impressed...

This family take Christmas seriously... Like, seriously.

This family took their love of gingham to whole other level.

This family decided to cut back on buying a Christmas tree this year and took the DIY approach.

The Christmas cheer was just so overwhelming in this Santa's grotto.

That moment when you think it's a great idea to pose in your home-made Christmas jumpers your granny made for you...

Santa instantly regretted giving this little lad a balloon sword.

Well, if you can't wear your favourite PVC Santa suit at Christmas, when can you eh?

Splits by the Christmas tree? Why the hell not.

It's not just little girls and boys who make it on the list naughty, if this Santa Claus and his black eye is anything to go by.