Education Cuts: Government Could Protect Students By Slashing Red Tape, Says NAO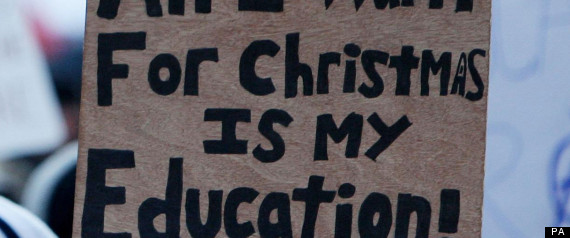 Up to £70 million a year could be slashed from further education (FE) red tape to protect students from cuts if the Government got its act together, the public spending watchdog has said.
The National Audit Office (NAO) said efforts to free institutions from unnecessary bureaucracy were poorly co-ordinated and that college staff had little or no faith that they would be effective.
Ministers had no idea of the scale of the bills facing institutions, the NAO found, so it carried out its own research and put the estimated total annual bill at between £250-300 million. That represents £150 per student at general FE colleges.
At least a quarter of that could be wiped out quickly - within no more than an academic year - if Whitehall departments and agencies joined forces and showed the required appetite, it said.
By the NAO's estimates, general FE colleges spend around £180 million a year on the administration of funding, qualification and assurance systems - £150 per student. On a generous assumption that other providers' costs are around half that, the total bill for the sector would amount to £250 million a year.
While the Government's ambition to simplify the system was laudable, the watchdog cautioned, the implementation was piecemeal, comprising "a series of individual groups of initiatives". "They need to rectify these deficiencies to make the most of the changes they are seeking and achieve value for money," the report concluded.
The Department for Business, Innovation and Skills and the Skills Funding Agency were in the lead on the issue but they "do not know the scale of the problem". The NAO recommended the BIS and the agency needed to "set a clear, ambitious target for the scale of the burden reduction they are seeking, to provide more impetus to change".
NAO head Amyas Morse said: "Our estimates show that substantial savings can be made by reducing bureaucracy in further education, and demonstrate the need for focused and systematic management of these costs to drive sustained improvements in efficiency.
"The Department for Business Innovation and Skills and the Skills Funding Agency have the ambition to make changes to simplify the system, but they must get to grips with the issues we have raised in order to achieve value for money and prevent colleges being embroiled in red tape."
Further Education and Skills Minister John Hayes said: "This report illustrates the considerable progress the Government has already made in reducing bureaucracy in further education, identifies the scale of the challenge we inherited and highlights the urgency of our task."