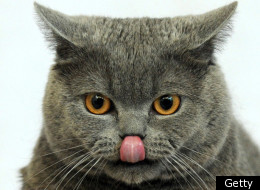 These playful animals are showing humans what they really think in the best way they know how - by getting their tongues out.
From a grumpy pig trying to take a nap to a sloth trying to get some peace and quiet, these creatures aren't beating around the bush when it comes to speaking their minds.
Unable to communicate verbally and finding giving the finger tricky, what could be more direct than waggling a brazen tongue in the right direction?
Cheeky Animals Get Their Tongues Out
A donkey during a fair at Vautha village.

A Meishan pig taking a nap at the Tierpark Friedrichsfelde zoo in Berlin.

Red panda "Midori" at Zoom Erlebniswelt in Germany.

Baby polar bear 'Knut' at the zoo in Berlin.

A Chihuahua named Elwood sits with his tongue out before the start of the Annual Ugliest Dog Competition.

Yang Guang, a male panda in Edinburgh, Scotland.

Walker the polar bear on his third birthday at the Highland Wildlife Park in Scotland.

A girl holds her cat during the fifteenth annual International cats exhibition in Minsk.

Heidi the cross-eyed possum is presented to the press at the Leipzig zoo.

Eight months old baby sloth Camillo yawns at the zoo in Halle, Germany.

A White Tiger walks in the Zoological Gardens in Colombo.