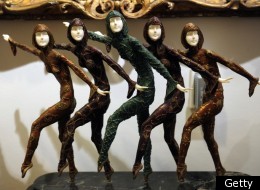 A mirror on which Michael Jackon wrote inspirational notes to himself has been sold for $25,750.
The mirror was part of an armoire - just one of a motley collection of items snapped up by fans and collectors, keen for a souvenir of the superstar who died in 2009.
The handful of Jackson items were among belongings of the house in which the singer spent his final days have been sold at auction, with profits totalling almost $1 million.
There were approximately 500 items on sale from the rented mansion, including such varied items as a pottery rooster holding a chalkboard inscribed by Jackson's daughter Paris - this went for $5,000.
The BBC reports that the profits of the auction dwarfed the auctioneers' estimates prior to sale.
The bed where Jackson's body was found by the now incarcerated Doctor Conrad Murray had been due to be included in the sale, but was removed from the catalogue at the request of the singer's family.
The rug beneath the bed sold for more than $15,000.
Have a click through our Slideshow and see what you could have won...
Images from the auction of the furniture and other effects from Michael Jackson's final home in Los Angeles. (credit: Getty)

Images from the auction of the furniture and other effects from Michael Jackson's final home in Los Angeles. (credit: Getty)

Images from the auction of the furniture and other effects from Michael Jackson's final home in Los Angeles. (credit: Getty)

Images from the auction of the furniture and other effects from Michael Jackson's final home in Los Angeles. (credit: Getty)

Images from the auction of the furniture and other effects from Michael Jackson's final home in Los Angeles. (credit: Getty)

Images from the auction of the furniture and other effects from Michael Jackson's final home in Los Angeles (credit: Getty)

Images from the auction of the furniture and other effects from Michael Jackson's final home in Los Angeles. (credit: Getty)

Images from the auction of the furniture and other effects from Michael Jackson's final home in Los Angeles. (credit: Getty)

Images from the auction of the furniture and other effects from Michael Jackson's final home in Los Angeles. (credit: Getty)

Images from the auction of the furniture and other effects from Michael Jackson's final home in Los Angeles. (credit: Getty)

Images from the auction of the furniture and other effects from Michael Jackson's final home in Los Angeles. (credit: Getty)

Images from the auction of the furniture and other effects from Michael Jackson's final home in Los Angeles. (credit: Getty)

Images from the auction of the furniture and other effects from Michael Jackson's final home in Los Angeles. (credit: Getty)

Images from the auction of the furniture and other effects from Michael Jackson's final home in Los Angeles. (credit: Getty)

Images from the auction of the furniture and other effects from Michael Jackson's final home in Los Angeles. (credit: Getty)

Images from the auction of the furniture and other effects from Michael Jackson's final home in Los Angeles. (credit: Getty)

Images from the auction of the furniture and other effects from Michael Jackson's final home in Los Angeles. (credit: Getty)