'TOWIE' Couple Lydia Bright And James Argent To Move In Together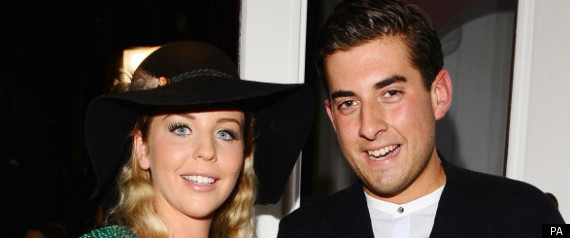 Lydia Bright and James Argent have revealed they are to move in together in time for series four of The Only Way Is Essex.
In tonight's Christmas special James is seen presenting Lydia with a Cartier watch and asks her to move in with him.
After handing her the Christmas gift, he says: "It's not just that - to go with the watch, I wanted to go to the next stage of our relationship and would love it if we can start looking for somewhere to live together."
Lydia accepts, saying: "I would love that."
James and Lydia are set to become the series' top couple after the split of Mark Wright and Lauren Goodger and the rocky relationship between Lucy Meklenburgh and Mario Falcone which cooled down after she cheated on Italian Mario with Mark.
Mario, who recently criticised show producers for heavily influencing castmembers' lives, said: "I know you and me are sort of getting there, back to normal and that, but still everyday it does eat me up.
"Hopefully it will eventually go away and hopefully, eventually, I can trust you again."
The special is to air tonight on ITV2 at 10pm.
(WENN)
CELEBRITY HOMES GALLERY
Loading Slideshow
The Beckhams

Officially known as Rowneybury House, this Grade II listed Georgian-style mansion in Hertfordshire was purchased by Posh and Becks shortly after they tied the knot in 1999 - and was instantly renamed Beckingham Palace by the press.They paid £2.5m then, but post-house price boom we expect the property, built in the 1930s and formerly used by the council as a children's home, is now worth much more than that.With David's move to Tottenham Hotspur, the couple will probably be spending a lot more time here again.

Brangelina

Brad Pitt and Angelina Jolie have a number of properties together, but this luxurious compound in the Los Feliz neighbourhood of LA is where they and their brood spend their time when working.They are believed to own around two acres worth of real estate, taking in what used to be a number of separate properties.The couple also have a home in their favourite city New Orleans - and were reported to have paid $40m for a mansion in Italy in 2010. PA

Ashley and Cheryl Cole

OK, so they don't live there together any more, but this is the Surrey mansion that the Coles shared when they were married.After their split Cheryl continued to live there, but its future was uncertain as she was preparing to move across the pond in a bid to break America.They purchased Hurtmore House for £3.5m in 2007, and its value is now believed to still be around the same or perhaps slightly less. PA

Simon Cowell

You'd expect X Factor supremo Simon Cowell to have a pretty swanky pad, and his main residence in Beverly Hills doesn't disappoint.He first bought the property back in 2004, but it wasn't until 2006 that it was demolished and work began building his dream home.It now has a gym, pool, extensive outdoor entertainment areas and a high-tech media room. X17

Kerry Katona again

And we were even more surprised when Kerry ditched her last place to move into this EVEN BIGGER mansion, also in Surrey.This one is reported to be costing her £5,500-a-month - although her management company is helping her out with the rent.She said she wanted more privacy and more space for her four kids. Bigpicturesphoto.com

Kerry Katona

We were all surprised when the recently bankrupt Kerry Katona moved down south - and into this rather expensive luxury pile in Surrey.She was reported to be renting the seven-bedroom, four-bathroom barn conversion for a whopping £3,500-a-month - so she must still be earning a decent amount.But then again she did sell the house that she'd previously bought for her mum to live in... PA

Kylie Minogue

Kylie Minogue lived in this posh mansion block in London's pricey South Kensington for around 15 years before selling up in 2010.She has now set up home with boyfriend Andres Velencoso in a new place nearby, but we bet this place will end up with a blue plaque.The four-bed flat was on the market for £4m, but we're afraid we don't know if it sold or, if so, what price it fetched. PA

Lily Allen

We took it with a pinch of salt when Lily Allen declared that she was moving out of London to live in the countryside, but lo and behold she only went and did it.The once-notorious party girl spent a reported £3m on this lovely period home in the Cotswolds - close to other celebs such as Kate Moss and Liz Hurley.A year or two later and she really seems to have settled into country life, settling down with boyfriend Sam Cooper at the six-bed pad - which we understand boasts a croquet lawn. PA

Lindsay Lohan

Lindsay Lohan moved into this nice little place in Venice Beach, LA, when she was granted permission to leave her rehab facility at the end of 2010.Bizarrely, her new pad is right next door to her former girlfriend Samantha Ronson's house - who was reported to be angry at Li-Lo's arrival.But that may have been wrong, because they were later spotted enjoying dinner out together. BauerGriffin

Madonna

Madge has been a London resident for years now, and currently resides in this 10-bedroom Georgian townhouse in artsy Marylebone.She and ex-hubby Guy Richie paid £6m for the pad back in 2007 - and she also has two nearby mews houses which staff live in.She reportedly faced competition from comic Jennifer Saunders and photographer Mario Testino to buy this house - but she's a woman used to getting her way and it looks like she did! PA

Michael Jackson

Probably the most famous (or perhaps infamous?) home of the celebrity era - Michael Jackson's Neverland Ranch in Santa Barbara County, California, was named after the island in Peter Pan.And the story of the boy who never grew up was clearly important to Jacko - who had a private amusement park, zoo and numerous statues of children installed at the property at a cost of many millions.Since his death there in 2009, the home has reverted to a family trust and its future is uncertain. PA

Katy Perry and Russell Brand

Until recently Russ lived in a north London flat, but splashed out on this £2.2m luxury pad for himself and (now) bride Katy Perry at the end of 2009.It's only got four bedrooms, but they must all be a decent size - and it has a decent pool too.Plus that screen of trees must be handy for keeping the paps at bay when Katy fancies a dip. PA

Tom Cruise and Katie Holmes

Hollywood A-listers TomKat obviously have the obligatory mansion in LA - but also own this rather large property in West Sussex.The six-bedroom home they snapped up for £2.5m just after getting married in 2006 is in East Grinstead - the same town that has the dubious honour of being the UK HQ of Scientology.As anyone who's visited East Grinstead will know, it's not exactly party central - so we bet the couple's breaks to the UK are a real laugh-a-minute. REX