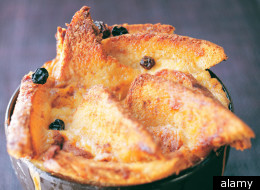 So, you've got the Christmas dinner essentials but what about the delicious extras? TV chef and Saturday Kitchen frontman James Martin gives us his top tasty picks for your Christmas taste buds.
To see James Martin cook a Christmas dinner go to Facebook/Barclaycard.
James' Festive Food Ideas
"Sherry with parsnips - they're delicious. Cut them into batons and drizzle them with sherry and honey and roast them. Perfect!"

"Not everyone is a fan of Christmas pudding, so make sure you make another favourite that your guests can enjoy. I'm a pudding maker - bread and butter pudding to be exact. Do it the day before and pop it in the fridge and cook it in the morning."

"If you've got enough room, make the most of the leftover turkey and make a smashing toasted turkey club sandwich. Just add some crispy bacon and little gem lettuce and you've got a tasty teatime treat."

"I know not everyone likes the humble brussels, but when you team it with chestnuts, it's hard to resist. Thinly slice the sprouts and put in a pan of buttered water and mix them together with chestnuts."

"Champagne is a great drink over Christmas, especially as you can get really cheap, quality bottles nowadays. Whip up one of my favourites - a Kir Royale, with a brown sugar lump and blackcurrant liquer."