Amy Winehouse, Elizabeth Taylor And Christopher Hitchens: Famous British Deaths Of 2011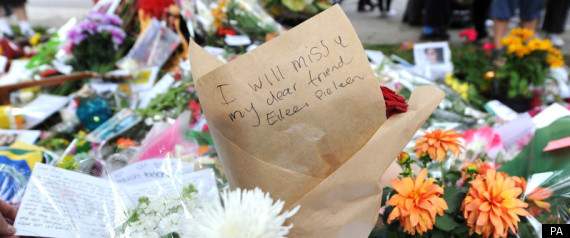 From sirens of the silver screen to dogged political campaigners - 2011 was the year the world said goodbye to iconic characters who shaped popular culture.
But it was the untimely death of Amy Winehouse, 27, which captured public attention and disbelief during the summer.
The troubled singer was known to be locked in a daily battle with her demons – drugs and alcohol.
Winehouse, who had apparently been clean of drugs, was found in her Camden house.
She was five times over the legal drink-drive limit for alcohol when she died, an inquest into her death heard.
The Back To Black singer had ignored doctor's warnings about her drinking and had 416mg of alcohol per decilitre of blood in her system at the time of her death.
In March, legendary actress and two time Oscar winner Elizabeth Taylor died, aged 79.
The London born star had been known to struggle with health problems and had apparently been in hospital more than 70 times.

Taylor's son, Michael Wilding described her as: "an extraordinary woman who lived life to the fullest, with great passion, humour, and love. "
The world of film also lost a key figure in the shape of Ken Russell, aged 84.

Russell's 1969 adaptation of DH Lawrence's Women in Love earned him an Oscar nomination for 'Best Director' and won its star Glenda Jackson a 'Best Actress' Academy Award.
However, his films often courted controversy. His 1971 film The Devils featured an infamous scene between Oliver Reed and Vanessa Redgrave sexualising the crucifixion, it was initially rejected by Warner Brothers but will finally be released in its entirety on March 19 2012 on DVD, when it will also form part of the BFI's centenary celebrations.
Earlier this month, the worlds of celebrity, journalism, literature and academia mourned the passing of author and journalist Christopher Hitchens.
He died following a battle with cancer. Hitchens was diagnosed with the illness in 2010 while on a book tour for his memoir, Hitch-22.
Born in Portsmouth, the writer worked for the New Statesman before moving to the United States to work for The Atlantic, Slate and, most notably, Vanity Fair. News of his death in Houston, Texas saw a flood of tributes hit the social network.
In the world of politics Philip Gould, one of the architects of New Labour, died at 61 of cancer of the oesophagus.
The Labour peer had publicly battled the disease, telling the Guardian in September "you know, this period of death is astonishing."
Gould began working with the Labour party during their slow climb back to power. He advised the party on polling and strategy during their unsuccessful elections in 1987 and 1992, as well as during the victorious 1997, 2001 and 2005.
For any child of the 1980s, there was only one prime time entertainer who everyone would remember.
Jimmy Savile came to symbolise all that was fun about life. The veteran broadcaster and charity campaigner, who had a load of memorable catchphrases, died at his home in Leeds, aged 84.
Savile was due to celebrate his 85th birthday two days later.
In sport, the typical British bulldog hero Henry Cooper passed away - after a knockout career in boxing.
Cooper was one of Britain's most popular sportsmen who was best known for knocking down Muhammad Ali while he was still known as Cassius Clay, died Sunday. He was 76.
He was also the first boxer to be knighted and receive the title "Sir" from a British monarch, Cooper died just two days before his 77th birthday.
Another shocking and untimely death was that of Wales football manager Gary Speed.
Speed has been discovered by his wife at their family home and it is thought it committed suicide. David Cameron led tributes to the former Newcastle United player.
Motorsport also suffered a terrible loss after the death of IndyCar racing driver Dan Wheldon who died in Las Vegas, described by his family as a "true champion".
The 33-year-old two-time Indianapolis 500 winner, originally from Emberton, Olney, was killed after his vehicle was caught up in a 15-car pileup on the Nevada track.
He may have not been a household name, or appeared in glossy magazines, but anti-war campaigner Brian Haw fought for what he thought was right.
To some, he was a crackpot, an eyesore camped out on prime London real estate. To others he was an inspiration, tirelessly fighting for civil rights
Sylvia Hui wrote for the Huffington Post
in June.
He died in Germany where he was receiving treatment for lung cancer, his family said.
UPDATE: Our original article did not make clear this was Famous British Deaths of 2011. The word British has now been added for clarity
Look at a gallery of 2011's most notable deaths: