Violence has escalated in Syria despite the presence of Arab League observers, who are assessing the regime's brutal crackdown against pro-democracy protesters.
Two protesters were killed and around 20 injured when security forces shot at demonstrators in Douma, Damascus, on Thursday, the Syrian Observatory for Human Rights (SOHR) said.
SOHR said "tens of thousands of demonstrators" were shot at outside the Grand Mosque of Douma as the investigators arrived at the town.
Security forces deployed tear gas and live rounds to deter the demonstrations, activists reported.
They said observers saw direct evidence of violence on the second day of their visit to the city of Homs, where thousands of people attempted to protest against the regime.
The month-long Arab League mission, which started work on Tuesday, spent two days in Homs visiting districts with the greatest reports of violence.
According to Avaaz, the observers met with the families of protesters killed by President Bashar al-Assad's forces.
The activist network also reported that observers visited a mosque in the Baba Amr neighbourhood where the body of a four-year-old boy shot and killed by security personnel stations near to university dorms was being held.
The Arab League team will now split into teams of about 10 and travel to Idlib, Deraa and Hama, where violence has also been reported.
However the head of the observing mission, General Mustafa al Dabi, angered protesters and activists when he said that the 150-stong delegation had not seen any evidence of violence between protesters and security forces.
General Dabi said: "Yesterday was quiet and there were no clashes... We did not see tanks but we did see some armoured vehicles. But remember, this was only the first day and it will need investigation.
"We have 20 people who will be there for a long time."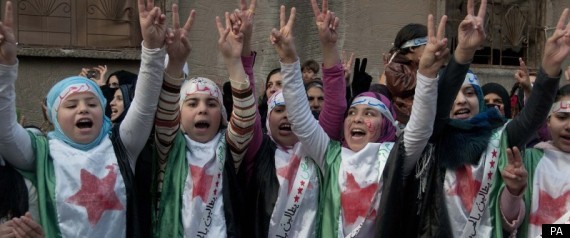 Above: Anti-Syrian regime protesters flash the victory sign as they wear Syrian revolution flags during a demonstration in the Baba Amr area, in Homs province, Syria. (PA)
Opposition figures said that the Arab League mission had "no teeth".
"The regime does not feel obliged to even bring down the number of casualties a day."
"We can't communicate with the inspectors," he told the BBC. "The inspectors are watched all the time by the regime thugs and the shabiha (militia)," he said.
"If they saw me and saw that I was talking to them... they would run after me and if I was caught I would be dead for sure."
The Syrian government released 755 people from prison on Wednesday, and state media claimed that their "hands were not stained with blood" after a report by Human Rights Watch accused authorities of hiding hundreds of detainees.
According to the UN more than 5,000 people have been killed and 14,000 arrested since the crackdown against the demonstrations began in March.
Activists claim that up to 40,000 are being held, while government officials insist that most of the violence is against security forces.
SUBSCRIBE AND FOLLOW
Get top stories and blog posts emailed to me each day. Newsletters may offer personalized content or advertisements.
Learn more