Syria: 10 Reported Dead Following Day Of Nationwide Demonstrations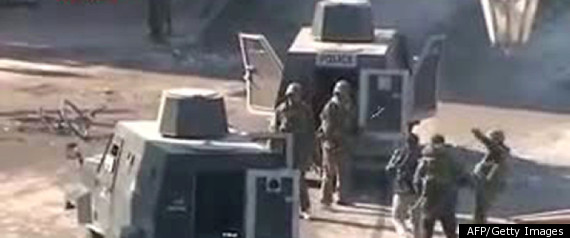 Ten anti-government protesters have reportedly been killed in clashes with Syrian security forces following a day of action across Syria.
The Independent is reporting that the number killed could be as many as 19.
The information is unverified due to the ban on foreign reporting from within Syria.
Five people are believed to have died in Hama, five more in Deraa, as revolutionaries and anti-regime demonstrators staged the biggest protest in months.
On Thursday, activists called for a nationwide rally to impress upon Arab League monitors the depth of anti-government sentiment across the restive country. Reported by the Guardian, a post on a revolutionary Facebook page read:
"On Friday we will march to the squares of freedom, bare-chested... We will march as we did in Homs and Hama where we carried olive branches only to be confronted by Bashar's gangs who struck us with artillery and machine-gun fire."
Speaking to Reuters, Abu Hisham, an activist in Hama, said: "This Friday is different from any other Friday. It is a transformative step. People are eager to reach the monitors and tell them about their suffering."
Following the call, demonstrations broke out in Aleppo, Hama and Deraa, as well as in the suburbs of Midan, Douma and al-Qadam of the capital. Hundreds of thousands are believed to have marched. Rami Abdul-Raham, who heads the British-based Syrian Observatory for Human Rights, put the figure at 250,000.
In Douma, an estimated 70,000 protesters took to the streets. Troops opened fire causing several injuries. There are also reports of nail bombs exploding as the rally neared the the town hall.
According to the BBC, 40 people were killed on Thursday as the monitors travelled to different parts of the country to oversee implementation of the Arab League peace plan that stipulates an end to the government crackdown, which the United Nations estimate has claimed the lives of more than 5,000 people since March.
The deaths have led to questions about the effectiveness of the Arab League monitors, with critics suggesting that the Assad regime if simply playing for time by giving limited cooperation to the observers. Question are also being asked about the ability of just 60 monitors to oversee an entire country.
On Friday morning, Britain condemned the continued violence in Syria and called for an immediate end to state repression of the protests.
This video is believed to show Friday's demonstration in Hama.